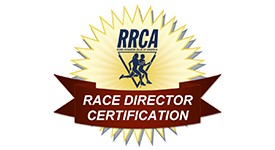 Offers Discounted Insurance Program for RRCA Certified Race Directors in 2014
Arlington, VA – In November 2012, the Road Runners Club of America launched their Race Director Certification program, which was developed in partnership Road Race Management, Inc.  Leading event directors from around the country, including Boston Marathon director Dave McGillivray, worked with the RRCA to develop this affordable education opportunity for anyone interested in putting on a distance running event.
In the first full year of the program, the RRCA has certified fifty race directors, with almost a hundred more currently enrolled in the course and working towards certification.
RRCA Race Director Certification is not mandatory for race directors seeking to insure events through the RRCA insurance program, however the program is extremely valuable to both new and seasoned event directors.  For 2014, all event members and event management company members whose primary contact are an RRCA Certified Race Director as of December 31, 2013 can receive an 8% discount on 2014 liability insurance rates for $1million of coverage per occurrence through the RRCA Certified Race Director insurance program.  Through this program, RRCA members may utilize the discounted $1million insurance rate, but they will be required to purchase the day-to-day activities, office premises operations, and non-owned/hired auto policy. The RRCA requires this additional policy, because Certified Race Directors are stating that they are a professional race director with formal business operations.
"We recently learned that our Runner Friendly Community of Salem, MA has included a question on their permit form asking if the race director is certified," noted RRCA President David Cotter. "To our understanding, certification is not yet required, but they are at least asking the question. We believe this question will be added to permit applications around the country in the near future as communities look to find ways to manage the popularity of running events in their communities."
The RRCA's program is an online learning system with the accompanying textbook Organizing Running Events by Phil Stewart, which is sent to participants following course sign-up. The program consists of six online-learning modules that are 60- 90 minutes. Each module is presented by an experienced race director or subject expert. Program participants do not have to attend an in-person classroom setting, as the program is a self-study course that allows one to learn at their own pace, on their own schedule. Following completion of all six learning modules, each participant is required to take a 100-question exam where they must receive 80% or greater to complete the course. The course requirements must be completed within six months of sign-up or a late fee will be assessed to complete the course. To be a fully recognized as an RRCA Certified Race Director and listed as such on the RRCA website, participants must agree to abide by the RRCA's Race Director Code of Ethics and submit a signed and notarized copy of the Code of Ethics to the RRCA.  Learn more at http://www.rrca.org/programs/race-director-certification/.
"Completing the RRCA Race Director Certification course shows that an event director is mindful of best practices and in turn should produce quality events," explained Jean Knaack, RRCA executive director.  "While this course is not required for all race directors, event participants should expect a safe race, quality event from an RRCA Certified Race Director."
About the RRCA:  Founded in 1958, the RRCA is the oldest and largest distance running organization in the United States with over 2,200 running club and event members representing over 200,000 individual runners active in their running communities.  The mission of the RRCA is to promote the development and growth of running clubs, running events, and supporting the common interests of recreational runners throughout the country at all stages in life.  The RRCA provides a national infrastructure for the development of recreational adult and youth running clubs and events that have boomed into a robust sporting activity. The RRCA actively promotes running as a healthy lifestyle and positive social activity and strives to provide quality programming that can be replicated throughout the country, such as our highly successful Start a Running Club program has been the cornerstone of our organization for over fifty years. Learn more at www.RRCA.org