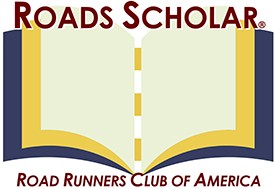 Arlington, VA – Since 1996, the Road Runners Club of America (RRCA) has awarded grants totaling over $480,000 through the Roads Scholar® program. The goal of the program is to assist American post collegiate runners who show great promise to develop into national and world-class road running athletes.  The grants awarded by the RRCA go directly to the athletes to help support their goals and training needs. Traditionally, the RRCA has distributed six grants. However, the strong credentials and impressive potential of this year's pool of applicants, coupled with the ability to lay the groundwork for qualification in the 2016 Rio de Janeiro Olympics, again afforded the expansion of the 2014-15 class of grantees to eight recipients.
The RRCA Roads Scholar selection Committee for 2014 included Carl Sniffen (Chair), Amy Begley (Roads Scholar-2002, Olympian), Joan Benoit Samuelson (Olympian), Don Kardong (Olympian), Phil Stewart, Bee McLeod, Brent Ayer, and Jean Knaack. The final selections were made on September 30, 2014, prior to the USA Marathon Championships in October.
The RRCA is pleased to introduce and congratulate the 2014-2015 Class of Roads Scholars.
Esther Erb:
In high school, Erb ran just one season of track, focusing her energies more on singing and playing the cello. However, once in college at Case Western Reserve University in Cleveland, OH, she ramped up her athletic interests, while still maintaining a commitment to academics. She qualified for nine national meets; earned six All-American finishes; and won the national championship in the 10,000-meter run.
Erb ran a 2:46:15 in her debut at that Berlin Marathon in 2008, and reduced her time to 2:39:02 at the Seville Marathon in 2010. The reduction in time is particularly impressive, considering her training coincided with a Fulbright Scholarship in Austria, where she was studying and teaching.
At the conclusion of her scholarship, Erb joined ZAP Fitness in Blowing Rock, NC, training under coach Peter Rea. Back in the US, her growth as a runner continued. In 2012, she finished 27th at the Olympic Marathon trials with a time of 2:37:21, after singing the national anthem to open the event. The next year, she placed third at the USA Marathon Championships at Twin Cities in Minnesota, running a 2:34:30.
Erb's improvements continued into 2014. In April, she set a new personal record at the Boston Marathon with a time of 2:33:15. On October 5, she returned to the USA Marathon Championships at the Metronic Twin Cities Marathon. Showing impressive stamina, she pulled away over the last mile and a half to win the race in a time of 2:34:01.
Currently an assistant Cross Country Coach at Rider University in Lawrenceville, NJ, Erb is now focused on her next two big goals, the 2015 World Marathon Championships, followed by the 2016 Olympic Trials.
Emily Gordon:
In high school, Gordon was a short distance sprinter and hurdler, favoring the 300m hurdles. She was recruited to UC Santa Barbara as a freshman to run the 400m hurdles. In her first season in the Big West in 2011, she placed 6th in the championship conference meet with a time of 62.83. In January 2012, she transferred to UC Los Angeles and trained and competed with the UCLA Track Team for her sophomore season before resigning from the team in order to focus on her biomedical research and her biochemistry major.
In fall 2012, Gordon joined the UCLA Triathlon Club in order to stay fit and active in her free time. She worked to increase her running and cycling distances and placed 13th in the USAT Collegiate Championships in spring 2013.
In October 2013, Gordon raced in the Nike Women's Marathon San Francisco along with a handful of triathlon teammates on a whim. Besides the consistent triathlon training and a handful of long runs, she did not do any marathon specific training. Surprisingly, she pulled to the lead at the 12th mile and won in 2:51.44. Shortly afterwards, she was approached by an old friend offering to coach her into another marathon, to make the 2016 Olympic trials B-standard time.
The goal was the Surf City marathon in February 2014. Along the way she won the San Diego Holiday Half Marathon in 1:14.13. On February 2, she raced to a 2:39.58 marathon finish in Huntington Beach, California, taking the course record by a whopping 17 minutes. In the spring she dabbled on the track with her first 3K in 9:49.18 and first 10k in 34:50.26, but has decided to focus her energy solely to the roads through 2016.
After attending the RRCA's RunPro Camp over in July 2014, she joined Team USA Minnesota based in the Twin Cities in September 2014. She will be completing her degree at UCLA in the fall and joining her teammates in spring of 2015.
"I want to thank the RRCA so much for the opportunity to represent such an amazing organization. It was so unique to be able to start my distance running career on the road, almost by accident," explained Emily Gordon. "There is something so great about the road racing community. Everyone single person, no matter their speed or experience, has put in incredible amounts of work and have something to be proud of when they cross that finish line. Road racing brings everyone together to make achievements and I look forward to making my achievements with the RRCA supporting me along the way."
Matt Llano
Llano initially started running in high school as a way to stay in shape for soccer but quickly realized his passion for the sport.  He made a transition to full-time runner his junior year. He began to flourish at the collegiate level, where he ran for the University of Richmond (UR) and earned three degrees: Psychology (BS), Latin American & Iberian Studies (BA), and Theatre (BA).  While at UR, Matt was a Division I All-American and led the Spiders to the NCAA Championship in 2010, a first for the team. On the track he ran 14:00 for 5,000 meters and 28:43 for 10,000 meters.
Always hungry for more, Llano decided to pursue running as a career upon graduation in 2011. Though he was struck by an SUV during a training run in the summer of 2011, he showed his resilience and debuted at the half marathon distance in Houston less than five months later, running 63:26 – a promising start to a professional career.  Shortly thereafter, he attended the first RunPro Camp hosted by TEAM USA Minnesota. After camp, he relocated to Flagstaff, AZ where he was one of the founding athletes with Northern Arizona Elite, a professional training group coached by Ben Rosario.
Following a number of top-10 finishes at US Championship events in 2012 and 2013, he started 2014 with a breakthrough performance at the US Half Marathon Championship where he placed 5th overall in a time of 1:01:47. During that race, he qualified to represent Team USA at the 2014 World Half Marathon Championship in Denmark. There he placed 35th, with a time of 1:02:25. He has spent recent months preparing for his marathon debut at the Bank of America Chicago Marathon, where he will aim to run under 2 hours and 10 minutes.
"I am honored to receive the RRCA Roads Scholar Grant and to follow in the footsteps of those who have received it before me," noted Llano. "It will go a long way in helping me to achieve the lofty goals I've set for myself. I sincerely appreciate all of the support that I've received from the running community and now from the RRCA, and further I am excited to be able to represent this organization moving forward!"
Jonathan Peterson:
Peterson found his passion for running in the fourth grade.  As he progressed through grade school and into high school, he quickly became one of the top runners in California.  He placed as high as 6th place at the California State meet and 10th at the Western Regional Cross Country meet, narrowly missing a bid to the Footlocker National meet.
After graduating from high school, he pursued a degree in Human Development at The University of California Davis.  While there, Peterson broke several school records on the track, including the 5,000 and 10,000-meter distances.  In 2010, he earned his first Big West Championship title in Cross Country, leading the Aggies to their first Conference Championship.  That same season, he went on to place 14th at the NCAA DI National Cross Country meet in Terre-Haute, IN, earning All-American honors.  Other career highlights include winning his second and third Big West Championship races in the 1,500 meter and 5,000 meter events at the 2012 meet.
Shortly after graduating from Davis, Jonathan moved out to the Twin Cities to join Team USA Minnesota, coached under Dennis Barker. In his first USA Championship appearance on the roads, he placed 12th at the Twin Cities 10 Mile, held in conjunction with the Metronic Twin Cities Marathon.  Within his first year, he qualified for the Great Edinburgh Challenge, held in Edinburgh, Scotland, along with qualifying for USA Outdoors in the 10,000 meters.
Jonathan attended the RRCA RunPro Camp in 2013 and has more recently begun to find his niche on the roads, racing in everything from the mile to the 10 mile distance.  Returning from a successful tour in Europe on the track, he finished 5th at this year's Bix 7, the USA 7 Mile Championship, to finish off his summer racing. In September, he placed 2nd at the Minnesota Mile in a time of 4:04.0 followed by 2nd at the Great Cow Harbor 10k and 12th place at the and USA 5K Championships. Most recently, he defended his 2013 title at the Twin Cities 10 Mile winning with a time of 48:12.
"I'm honored to receive this grant and having organization such as the RRCA support my aspirations," noted Peterson. "It further validates the continued pursuit of my goals as a professional athlete."
Daniel Quigley:
A St. Louis native, Quigley grew up playing every sport under the sun and even dabbled in a few middle school track meets.  A 2007 graduate of Christian Brothers College High School where his father was a math teacher and track coach, it was only natural that he signed up for the Cross Country team.  Running times of 9:08 and 4:16 in the 3200 and 1600 meter races and placing 2nd at the Missouri State Cross Country Championships earned him a partial scholarship at the University of Missouri.
As a Mizzou Tiger, Quigley had a few false starts before finding success.  A bought with Mono and a two-year hiatus due to hip surgeries held him back temporarily.  By the end of his college career, he was a two-time NCAA finalist in the 5000m, finishing with a 2nd team All-American honor and multiple All-Conference honors.  He also broke both the indoor and outdoor school records in the 5000m.  He ran under the previous records a total of seven times and eventually dropped his own outdoor record by 22 seconds to 13:43.
After graduating with a master's degree in Mechanical Engineering he looked west to TrackTown USA, Eugene, OR.  Quigley has seen great improvements running with the Oregon Track Club Elite and working with coach Ian Dobson.  He attended the RRCA's RunPro Camp in July 2014. In his first mile race as a pro, he broke the 4-minute barrier, which was a 13 second PR from his college best of 4:12.  This summer he ran his first road mile at the GNC Livewell Liberty Mile, placing 6th and earning his first prize purse as a pro on the roads.
"I can't tell you how thankful I am to receive this award from the RRCA.  After attending the RunPro Camp this summer, I can say the people there are awesome to work with, passionate about running, and invested in developing our sport," said Quigley.  "I hope to return this investment in me by showing that same passion the only way I can – through my running."
Natosha Rogers 
Rogers discovered her passion for running in high school. At the time, her training grounds were the beautiful foothills of the Rocky Mountains in Littleton, CO.  She went on to run for Texas A&M University's Cross Country and Track & Field teams where the experience bred a dream to compete against the top female distance runners of the world.
At the 2012 NCAA Outdoor Track & Field Championship meet, Rogers won her first National Championship, even though the previous year she had not qualified for Nationals. The leap she made is a true testament to her work ethic and drive. That same year, she placed 2nd at the Olympic Trials in the 10,000 m with a time of 31:59, ahead of two runners who qualified for the London Olympic Games. She did this by managing to regroup after taking a fall and being trampled early on in the race.
After that season, a more severe injury occurred to Roger's knee. Unable to run, she took a hiatus from the sport to pursue other interests. However, that break only reinforced her love for running, and it was not long until she returned to the sport.  After graduating, Rogers decided to make the move to Boston to train under Mark Coogan with other aspiring runners.  She is now in an environment where her dreams can become a reality.
Ethan Shaw
Shaw ran for most of his life while growing up in Falmouth, ME.  By the end of high school, he had collected five state titles between Cross Country and Track. He earned three All-New England performances in Cross Country. On a national scale, Shaw was far from a standout with modest time of 4:21 in the 1600 m and 9:39 in the 3200 m.
He decided to attend Dartmouth College after being recruited by Coach Barry Harwick. Shaw quickly found success after jumping up to the 8k distance in Cross Country. He worked to steadily drop his times on the track. As a junior, his 3rd place finish at the Heptagonal Cross Country Championships launched him into the top tier of runners in his conference. As a senior, he was able to grab the surprise victory at his conference championship on a snowy day at Princeton. He would finish the season with a 54th place finish at the NCAA DI National Championships.
Since graduating, Shaw has been working to consistently improve. In his debut marathon, he was able to snag a qualifying time for the 2016 US Olympic Trials – Marathon with a 2:17:26 at the 2013 US Marathon Championships. That time placed him 14th in the race and ranked him 32nd in the marathon for 2013.  He was also able to drop his 5k and 10k personal bests to 13:55 and 28:41 respectively. Shaw attended RunPro Camp in 2014 as an invited athlete. He has recently moved to Boston to compete for the Boston Athletic Association under Coach Terrence Mahon where he hopes to make strong improvements on the track and on the roads.
"I am so thankful to the RRCA and the Roads Scholar committee for selecting me for this grant," noted Shaw. "I am excited to continue to pursue my dream of competing at the highest level in this sport."
Amy Van Alstine:
Van Alstine started running Cross Country and track for Midland Park High School in New Jersey. Her siblings all ran and excelled, so her father encouraged her to follow in their footsteps. During her time at Midland Park, she became the Group 1 State Champion (2004) in Cross Country and Indoor Track (3200) and Outdoor Track (3200). She also received 1st team all-state honors in Cross Country and was named the YMCA student-athlete of the year (2005).
Collegiately, Van Alstine ran for the University of Richmond Spiders in Richmond, VA, where she was an All-American in the 5k outdoors (2011). She was also the school record holder in the outdoor 1500, 3k, and 5k and broke the Atlantic 10 Conference 1500 record. At the end of her college career, she was named Atlantic 10 Athlete of the Year.
Post-collegiately, she attended RunPro Camp in 2011 hosted by TEAM USA Minnesota, and joined Adidas-McMillan Elite in Flagstaff, AZ in 2012 where she had great success, achieving personal bests in every event from 1500 on the track up to 10k on the roads. With the completion of McMillan Elite at the end of 2013, she decided to stay in Flagstaff and joined the new team of Northern Arizona Elite. Under Coach Ben Rosario, Van Alstine won her first USA title by winning the 2014 USA Cross Country Championships. Following that race, she competed at the 2014 USA Road 15k Championships placing 3rd with a time of 49:49.
"Thanks to the Road Runners Club of America for selecting me for the 2014 RRCA Roads Scholar grant! I am very appreciative of their continued support and belief in what I'd like to accomplish," explained Van Alstine.  "I've experienced some extreme highs in my running this year and also encountered some extreme lows with injuries. The funding that RRCA provides will help give me even more strength to overcome adversity. It will also continue to fuel the fire inside of me and remind me that there are others that believe in me as well."
About RRCA
Founded in 1958, the Road Runners Club of America is the oldest and largest national association of running clubs, running events and runners dedicated to promoting running as a competitive sport and as healthy exercise.  The mission of the RRCA is to promote the sport of running through the development and growth of running clubs and running events throughout the country.  The RRCA supports the common interests of runners of all abilities during all stages of life by providing education and leadership opportunities along with programs and services that benefit all runners. Learn more at www.RRCA.org and at www.RunPro.com