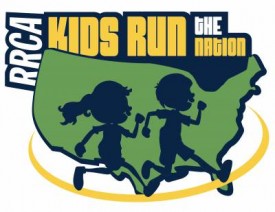 RRCA, Feetures! performance running socks partner to award $30,000 to youth running programs across the country
ARLINGTON, Virginia – In 2007, the Road Runners Club of America (RRCA) developed the Kids Run the Nation Fund to assists running clubs, events and schools that are interested in implementing or currently have a youth running program. Since then, the RRCA has awarded a total of $136,500 to deserving youth programs around the United States.
Thanks in part to the support of Kids Run the Nation Program® sponsor Feetures! performance running socks, a total of $30,000 will be awarded in the form of small grants ranging from $500 to $1000 in 2016. Running clubs, events, or other organizations with the IRS 501(c)(3) designation are eligible to apply. Elementary and middle schools that provide an organized after-school running programs are eligible as well. No grants will be given to individuals under any circumstance. All applicants must be an official 501(c)(3), school, parent booster club, PTA or a similar entity. The application deadline for a Kids Run the Nation grant is Saturday, October 1, 2016.
Last year, 28 youth running programs throughout the U.S. serving more than 11,000 children received $22,760 in grants from the RRCA. In addition, the RRCA donated more than 13,000 copies of Kids Run the Nation: A Running Guide for Kids booklets to be given to program participants in 26 different programs. The in-kind donation to these programs was valued at more than $14,000.
"We were very excited about our initial program and look forward to making it even better in 2017. We are very thankful for RRCA's commitment to combating childhood obesity," said Denise Piercy of the Running Zone Foundation's Space Coast Countdown to Fitness and Space Coast Final Mile, a 2015 Kids Run the Nation grant recipient. "We even had some parents START running because of the program!"
This small grant program is funded by restricted contributions from RRCA members, individuals, foundations and corporations. One hundred percent of the money raised is restricted to the grant fund and no portion of contributions to the Kids Run the Nation Fund are used for administrative expenses. Grants are awarded on an annual basis through an application and selection process overseen by a volunteer selection panel. Donate today to the Kids Run the Nation Fund by making an annual contribution to the RRCA.
About the RRCA
The Road Runners Club of America (RRCA) is the oldest and largest national association of running organizations and runners dedicated to growing the sport since 1958. The RRCA champions the development of community-based running clubs and events that serve runners of all ages and abilities in pursuit of health and competition. The RRCA's vision is to see an organized running club established in every community in the U.S. To learn more, visit: www.RRCA.org
#          #          #