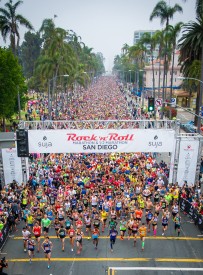 – Celebrate 20 years of running of Rock 'n' Roll San Diego
– 2017 event will take place the weekend of June 3 – 4
– Online registration opens today at RunRocknRoll.com/San-Diego with limited special pricing
SAN DIEGO — July 20, 2016 –Registration for the 2017 Rock 'n' Roll San Diego Marathon & 1/2 Marathon is now open. The event returns the weekend of June 3-4 and will celebrate 20 years of running. The inaugural Rock 'n' Roll San Diego Marathon debuted in 1998 and is the flagship event of the Rock 'n' Roll Marathon Series.
"We are thrilled to be celebrating the 20th edition of the Rock 'n' Roll San Diego Marathon," said Katie Holmes, event manager. "Our series has accomplished so much since starting in San Diego and now reaches 30 international destinations."
The 2017 Rock 'n' Roll San Diego Marathon & ½ Marathon returns on Sunday, June 4 in addition to a 5K on Saturday, June 3. Both courses on Sunday will start in Balboa Park and take runners through quintessential San Diego neighborhoods such as Hillcrest, North Park and Normal Heights, with the marathon course continuing through Old Town and Mission Bay Park.
Runners will also have the opportunity to take part in the Remix Challenge. Those who participate in the 5K in Balboa Park and then either the marathon or half marathon the next day will receive an exclusive third medal in addition to each race's finisher medals.
Registration is now open at $69 for the marathon, $59 for the half marathon, $40 for the 5K and $85 for the half marathon relay. These prices are available for a limited time only.
Race weekend kicks off with a free Health & Fitness Expo, where runners can find the latest in running technologies, fitness apparel, health and nutrition information and interactive displays. The Expo takes place at the San Diego Convention Center on Friday, June 2 from 11:00 a.m. to 7:00 p.m. and Saturday, June 3 from 9:00 a.m. to 5:00 p.m. The Expo is free and open to the public.
For more information about Rock 'n' Roll San Diego or to register for the event, please visit RunRocknRoll.com/San-Diego.
Download:
NEW 2017 Logo
Start Line Photo (credit: Ryan Bethke)