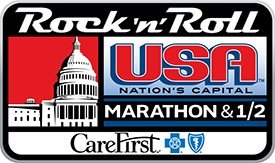 • Washington DC race to utilize UPS trucks to provide vastly improved gear check; Larger finish line area at RFK Stadium, post race concert to take place in Lots 6/7
Washington, D.C. – December 19, 2013 – Finishers at the 3rd annual Rock 'n' Roll USA Marathon & Carefirst Rock 'n' Roll USA ½ Marathon will notice significant improvements to their race day experience on Saturday, March 15, 2014. Race organizers have announced a new finish line festival location at RFK Stadium, offering more than twice the space of the previous location.
Among other improvements taking place in 2014, UPS trucks will be utilized to transport participant gear bags from the start to the finish. The trucks are designed perfectly for efficient service for runners gathering their belongings and have proven successful at over 50 Rock 'n' Roll Marathon Series events including San Diego, Nashville, Philadelphia, Las Vegas and several other markets.  The 2013 event used school buses for gear check.
Participants can expect a convenient race day, with dozens of hotels within walking distance of the start line. Additionally, all METRO operations will begin 2 hours early, at 5:00 a.m. on race morning to swiftly transport runners to their corrals.
"We consider every aspect of a runner's experience when making adjustments and our goal is always to make it a smooth and enjoyable day for them," said Adam Zocks, Vice President and Race Director. "Washington D.C. is a remarkable backdrop for a race and we look forward to combining the memorable sights along the way with a well-organized event from start to finish."
Runners will once again start on Constitution Avenue, a stunning and scenic start line under the shadows of some of the country's proudest landmarks. As they travel down Constitution, participants will pass the White House on the right and the stunning Washington Monument on the left as they head toward George Washington University.
The course then loops back towards the National Mall and Lincoln Memorial, passing West Potomac Park and crossing the Arlington Memorial Bridge. Marathoners will view the US Supreme Court and US Capitol building before enjoying more than 3 scenic miles along the Anacostia River's waterfront. The race is the only marathon run entirely within the District of Columbia.
After touring the nation's capital on foot, runners will converge into Lots 6 and 7 at RFK Stadium, offering a sprawling area for participants and their friends and families to relax and celebrate. The new finish will better accommodate the flow of runners as they come through the finish line, as well as crowds enjoying the finish line festival and post-race concert.
The Rock 'n' Roll USA Marathon & CareFirst BlueCross BlueShield Rock 'n' Roll USA 1/2 Marathon combines fitness and fun with each mile of the race featuring live, local bands, cheerleaders and motivating spectators, culminating with a major music headliner performing at the finish line festival.
Marathon weekend kicks off with the Health & Fitness Expo at the DC Armory Thursday and Friday. The Expo, which is free to the general public, features interactive activities, educational sessions and expert speakers along with 80 exhibitors providing free samples, giveaways and health and fitness information.
About the Rock 'n' Roll USA Marathon
The only marathon that runs entirely in the District of Columbia, the Rock 'n' Roll USA Marathon & CareFirst BlueCross BlueShield Rock 'n' Roll USA ½ Marathon will take place on Saturday, March 15, 2014. The race features live bands and cheerleaders interspersed with themed water stations along each mile of the scenic course. A free two-day Health & Fitness Expo kicks off race weekend, featuring more than one hundred fitness retailers, exhibits, free samples and interactive clinics. The event concludes Saturday afternoon with a finish line celebration and headliner concert at RFK Stadium. For more information about the Rock 'n' Roll USA Marathon, please visit RunRocknRoll.com/USA or follow @RunRocknRoll on Twitter.
# # #