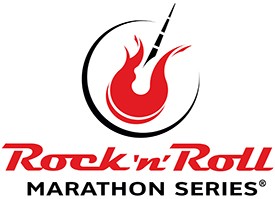 National Running Day celebrated nationwide on Wednesday, June 4; Two-day Rock 'n' Roll Running Festivals announced for five destinations in 2014; Special one-day event registration discounts for Rock 'n' Roll Marathon Series, Women's Running Series and TriRock Triathlon Series
San Diego, CA – June 4, 2014 – For one day each year, the sport of running becomes a collective celebration of the passion millions of people share when they lace up their shoes and head out the door. This special occasion falls on the first Wednesday in June each year as National Running Day inspires and motivates the estimated 49 million Americans who run.
On Wednesday, June 4, the Rock 'n' Roll Marathon Series celebrates National Running Day by hosting free running events in dozens of cities across the country.  Additionally, registration discounts are being offered for all global Rock 'n' Roll Marathon Series events, as well as the Women's Running Series, the TriRock Triathlon Series and the legendary Carlsbad 5000.
"Runners are passionate about their sport and National Running Day really highlights that shared enthusiasm. We're pleased to not only offer savings for runners, but also opportunities to come together and celebrate as a community," said Keith Kendrick, Chief Marketing Officer. "This is a great time for new runners to commit to a race, as our series boasts a variety of distances and events, and for experienced athletes to plan their fall schedule."
Five of the Rock 'n' Roll Marathon Series events will also feature a second day of running over event weekend, creating running festivals with additional 5K options in Chicago, Philadelphia, Savannah and St. Louis. The Rock 'n' Roll Virginia Beach Half Marathon will feature a one-mile beach run.
These ancillary events will take place the day before or after race day, creating an entire weekend of fitness and fun. All participants in the Rock 'n' Roll Running  Festival events will earn a medal, however runners who participate in both  Saturday and Sunday's events will earn a special Rock 'n' Roll Running Festival  medal to commemorate their accomplishment.  Each will include a post-race beer garden, entertainment on course and finish line celebration party.
On National Running Day, runners can join the celebration at local fun runs being held in their area or hit the pavement on their own for a "Virtual Run." All runners are encouraged to sign up to receive a Virtual Finisher Badge and also be eligible for a National Running Day prize pack drawing by submitting a proof of time. Runners can sign up online at http://runrocknroll.competitor.com/national-running-day/fun-run.
Last year, a record 1.96 million people finished a half marathon in the U.S., a new high according to Running USA. For the first time in history, 61% of U.S.  half-marathon finishers were female, the highest proportion of any race  distance. Since 2000, the annual number of half-marathon finishers in the United States has nearly quadrupled (482,000 to 1,850,000), an impressive increase of 284%.
For more information about National Running Day, visit runningday.org/about. For more information, or to register for an event, please visit RunRocknRoll.com or follow @RunRocknRoll on Twitter.
About The Rock 'n' Roll Marathon Series
Organized by Competitor Group, the Rock 'n' Roll Marathon Series is the 'World's Largest Running Series' with more than 500,000 runners taking part in 28 destination events around the world. What started as a simple idea in 1998—the idea of making running fun– soon transformed the U.S. running landscape by infusing the race course with live bands, cheer teams and entertaining water stations.  The outdoor festivals encapsulate cities in their entirety and culminate with a finish line festival featuring a concert headlined by some of the best music acts around. Over the 17-year history of the series, charity partners have raised more than $300 million through the events for a variety of worthy causes. Today, the series of entertainment themed marathons and half-marathons continues to enjoy great appeal for the traveling runner, tremendous local support and has firmly established itself as a dynamic running platform.  For more information, or to register for an event, please visit RunRocknRoll.com or follow @RunRocknRoll on Twitter.
###