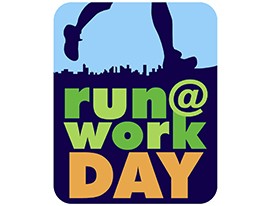 he Road Runners Club of America, the largest grassroots running organization in the country, is partnering with many offices and schools to promote the 8th Annual RUN@WORK Day and 2nd Annual RUN@School on September 20, 2013. Through this partnership, our organizations are working together to promote physical activity and healthy living within our communities and around the country.
The goal of RUN@WORK Day is to encourage adults and children to get 30-minutes of exercise each day, in accordance with the Physical Activity Guidelines for Americans, either in the morning, during lunch, or immediately following work or school. RUN@WORK Day also encourages companies to help employees schedule time for physical activity.  Incorporating exercise into one's daily routine can markedly improve one's overall physical health.
"We chose to participate because I am an avid runner who runs at lunch," said Valerie Blajeski of the Alaska Department of Fish & Game in Anchorage, Alaska. "Folks always mention that they'd like to join me but don't always have an incentive to do so. This event shows them how feasible it is to squeeze in some physical activity during your lunch break."
Blajeski also noted that her office plans to offer a 5k run or 1 mile walk from along trails adjacent to her office at noon with a potluck lunch to follow. The office is planning to have a running clock at the finish so folks can time themselves if they'd like.
Christopher Wooleyhand, principal of Richard Henry Lee Elementary School in Glen Burnie, Maryland, says his staff running team is "sponsoring the event to promote a healthy and active lifestyle, not just for students but also for school staff members." The school will begin the day with a 7:50 A.M. staff run where participants will lap the building twice. At recess, close to 500 students will run a cross country course, where every finisher will receive a medal. Also, throughout the day, teachers will be taking smaller groups of students outside for various running activities.
"The RRCA is excited to have so many great offices and schools involved in our RUN@WORK Day series of events", said Jean Knaack, executive director of the RRCA.  "Participation in the 8th Annual RUN@WORK Day and 2nd Annual RUN@School Day is an important step in raising awareness about the importance of daily physical activity. If adults can lead by example, if companies and schools can encourage healthy living, then together we can combat the inactivity crisis gripping our nation."
For more information about our RUN@WORK Day and RUN@School Day events, visit the event's website or contact Andy Smith, RRCA Programs Coordinator by email at programs@rrca.org or by phone at 703-525-3890. We encourage people to share information on Twitter about their Run@Work Day or Run@School Day runs using #runatwork.