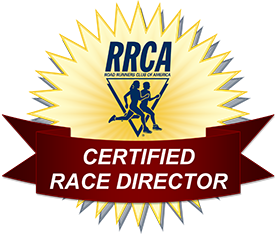 Arlington, VA – Ryan Miller of Wheaton, IL became the 100th person to successfully complete the RRCA's Race Director Certification Course on May 27, 2014.
"After participating in races as an avid runner, I was fortunate to accept a position at the Wheaton Park District that allowed me to expand on my love of running and fitness," said Miller, a Parks Plus Fitness Manager with the Wheaton Park District. "In my role, I manage the a fitness center with a 2,000+ membership base and assist in the coordination and planning of the Wheaton Park District's three annual runs."
Launched in 2013, the RRCA's Race Director Certification Course was created to provide event directors with a baseline of knowledge needed to conduct safe events for runners, walkers, volunteers, and spectators. The course consists of six online-learning modules that are 60-90 minutes each. The learning modules cover all twenty-one chapters in the course textbook, Organizing Running Events, by Phil Stewart.
Topics covered in the course include course design, insurance and risk management, medical and safety issues, and much more. Once course participants feel they've sufficiently mastered the material, they must complete a 100-question test and achieve a passing score.  RRCA staff verifies each student has reviewed each module in full before approving a passing test score. To be a fully recognized as an RRCA Certified Race Director and listed on the RRCA website, participants must agree to abide by the RRCA's Race Director Code of Ethics and submit a signed and notarized copy of the code to the RRCA as the final step in the certification process.
Prominent names in race management, including Dave McGillivray of the Boston Marathon, Phil Stewart of the Credit Union Cherry Blossom 10 Miler and Road Race Management, Don Kardong of the Lilac Bloomsday Run, Sean Ryan of the Cellcom Green Bay Marathon, and more, were involved in the creation of the course.
Since enrolling in the course in April, Miller has already used what he has learned while assisting with two local races.  He looks forward to planning and staging his first event as an RRCA Certified Race Director, the Cosley Run for the Animals in June.   "I chose to take the RRCA Race Director course to further my education and to provide the Wheaton community with well executed and safe events," Miller said. "In less than a year, I have watched over 4,000 runners and walkers cross our finish lines."
As part of the Race Director Certification Program, the RRCA has been able to offer a Certified Race Director insurance program, which provides for reduced insurance rates for events and includes a business policy to cover for professional event management services for running clubs and event owners.
To learn more about the RRCA Race Director Certification program, visit http://www.rrca.org/programs/race-director-certification/.