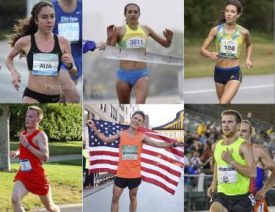 Six up-and-coming U.S. distance runners receive $5000 each in financial support; the program has awarded $560,000 since 1996 to emerging elite runners in the U.S.
Arlington, VA – The Road Runners Club of America (RRCA) announces and proudly introduces and congratulates its 22nd Roads Scholar® class: Gabrielle Anzalone, Emma Bates, Johnny Crain, Alia Gray, Tyler Jermann and Matt McClintock.
Since 1996, RRCA has awarded grants totaling more than $560,000 through its Roads Scholar® program. The goal of the program is to assist American post-collegiate runners who show great promise to develop into national and world class road running athletes. The grants awarded by the RRCA go directly to the athletes to help support their goals and training needs.
Gabrielle Anzalone (Madison, WI): Gabrielle found her passion for running while being a part of her middle school cross country team. While in high school, she had the opportunity to participate in numerous Michigan State Championship races and other events on the national stage. She was a member of the 2010 Midwest Footlocker team and holds the third fastest time in states cross country history with a time of 17:01.7.
Following high school, Gabrielle ran for the University of Wisconsin – Madison. While at Madison, she had the opportunity to represent UW at four NCAA National Championships and four NCAA Preliminary Track and Field events. She was a member of Team USA in 2012 for the NACAC championships, assisting in the team championship. Her focus was on the 5k and 10k in college with personal bests of 16:15 and 34:16. Gabrielle obtained Big Ten honors and academic All-American honors during her competitive years.
After graduating from UW in 2016, Gabrielle has continued her running under a new coach, Thomas Breitbach (UW- Parkside Head Coach) while pursuing her Master of Social Work in Madison. She attended the RRCA's 2017 RunPro Camp.  She has been racing on the roads, clocking PRs of 56:06 in the 10 mile and 1:14:51 in the half marathon, as the first place female at the 2017 Cellcom Green Bay Half Marathon. Gabrielle has competed in numerous USATF road championships, with continued growth and success.
Emma Bates (Elk River, MN): Following a decorated high school career where she led her Elk River team to a Minnesota Class AA state title, Emma Bates accepted a scholarship offer from Boise State University. There, she became a 12-time All-American. With humble beginnings, Bates started her freshman year barely running the times she had accomplished in high school. With an immense amount of hard work and countless miles, she went from running 17:40 in the 5K her freshman year, to 15:30 her senior year. Not only that, she was also able to go from not winning a state title in high school, to winning the NCAA Division 1 title in the 10k in 2014.
Now moving to the roads, Emma hopes to improve upon her multiple top ten finishes at various USATF Championship distances, including 5th place at the 2017 Portland Track Festival 10,000 meters and 7th place in the 3,000 meters the 2017 Adrian Martinez Classic. Her best performance came recently at the USATF 10 Mile Championships where she placed 6th with a time of 55:36. She plans to continue her progression in distance running and will make her half marathon debut this fall followed by her marathon debut in early 2018.
Johnny Crain (Blowing Rock, NC): Johnny grew up in the small town of Dunlap Illinois and capped his high school career with an Illinois State title in the 1600m. Johnny attended the NCAA DIII powerhouse, North Central College, to run under the tutelage of Hall of Fame Coach, Al Carius. During his time at North Central, he helped his team win three NCAA DIII titles, becoming one of the most prolific DIII distance runners of all time. Accomplishments included: being a four-time National Champion, a four time runner up, ten All-American awards, and being ranked in the top 10 in all time DIII history in four events. His college career includes marks of 14:04 for the 5K and 28:52 for the 10K. He also earned Academic All American honors at the same time.
After graduating from North Central in 2014, Johnny accepted a position at the University of Oklahoma as a Graduate Assistant for the Track & Field and Cross Country team. While attending Graduate school and working full time with the track teams, Johnny entered the road scene by winning the 2014 Tulsa Run and qualifying for the 2016 Olympic Trials at the 2015 Houston Half Marathon with a time of 63:21.  He attended the RRCA's RunPro Camp in July 2015.
Johnny joined the Reebok ZAP Fitness Elite Team in January 2016, moving to Blowing Rock, North Carolina, once he completed his Master's degree at Oklahoma.  Johnny was one of the few athletes that competed at the U.S Olympic Trials-Marathon (52nd overall) and five months later in the U.S Olympic Trials-Track in the 10K (16th overall).  After making the move to Blowing Rock, Johnny won the Peoria Steamboat Classic 4 mile and the VCU Richmond 8K. He was 6th place in the Armagh International Road Race in 2017 and finished 10th in the U.S Championship 25K.
Alia Gray (Boulder, CO): After beginning cross country her junior year in high school following a soccer injury, Alia Gray went on to compete in college at Chico State University under the tutelage of Head Coach Gary Towne. During her time there, she became a four time DII NCAA All-American and set the school track record in the 10k.
After graduation, Alia began exploring longer distances on the road racing scene. With some encouragement from Towne, she tried her hand at the marathon and was hooked on the distance. The year after graduation, she decided to move to Boulder, Colorado to immerse herself in an elite running culture and to train at altitude. She is now training under USATF Legend Coach Joe Vigil along with Dr. Richard Hansen, the head coach of Alia's training group Roots Running.
Alia's 10th place finish at the 2016 U.S. Olympic Trials-Marathon was a breakthrough race for her. She followed that up with a 10k PR on the track that spring with a time of 31:59.  At the 2017 Bank of America Chicago Marathon, Alia was the 8th female overall and 3rd American with a time of 2:34:25, earning $10,000 in American prize money at the race.
Tyler Jermann (Minneapolis, MN): Tyler Jermann grew up in the Chicago suburb of Naperville where he ran cross country and track at Naperville North High School. During his prep career he led his team to a 3rd place finish at NXN in 2008.  His track PR's of 4:20 and 9:17 for 1600 and 3200 meters respectively earned him a scholarship to Iowa State University. While at Iowa State University, Tyler was a three-time Academic All-Big 12 First Team. He graduated in 2015 with degrees in mathematics and finance.
His first two years out of college as a professional runner, he trained at altitude in Flagstaff focusing on the half marathon and marathon distances. Tyler qualified for the 2016 U.S. Olympic Trials-Marathon and finished 36th. From 2015-2017 he ran seven marathons, achieving a best of 2:16:52 at Pittsburgh in May 2017 and top American finishes at the 2016 Houston Marathon (11th overall), the 2016 Pittsburgh Marathon (3rd overall), and the 2017 Pittsburgh Marathon (4th overall). He won the USATF 50k Championships in the spring of 2017 with a time of 2:48:56, which puts him 3rd on the world all-time list at that distance.
Tyler joined Team USA Minnesota in August 2017 and continues to compete at major road races with his sights set on the USATF Marathon Championships, which will be held in Sacramento in December.
Matt McClintock (Blowing Rock, NC): Matt McClintock began running seriously his senior year of high school, placing 15th at the Footlocker National Championships and breaking the Maine State Class C meet records for the 1600m and 3200m.
Matt earned a scholarship to compete at Purdue University where he was a three time All-American and two time Big Ten Conference champion, which included setting the Big Ten Cross Country Championship record, along with breaking school records from 3K to 10K.
Following the conclusion of his collegiate eligibility, Matt joined the Reebok ZAP Fitness Elite Team to continue his running career. He immediately found success with coach Pete Rea, placing 5th at the 2016 U.S. 10 Mile championships with a time of 47:53.  In the remainder of his first year at ZAP, Matt saw personal bests at 5K, 8K, and 10K. He also qualified for his first U.S. Track championships where his 10K PR of 28:27 placed him 10th.  Other highlights included a fifth place finish at the Crazy 8's 8k with a time of 22:55, where McClintock was the first American in the top five in over 20 years.  He placed 3rd at the 2017 U.S. 7 Mile Championships with a time of 33:10.
About the RRCA: The Road Runners Club of America (RRCA) is the oldest and largest national association of running organizations and runners dedicated to growing the sport since 1958. The RRCA champions the development of community-based running clubs and events that serve runners of all ages and abilities in pursuit of health and competition. The RRCA's vision is to see an organized running club established in every community in the U.S. To learn more, visit: www.RRCA.org
#          #          #