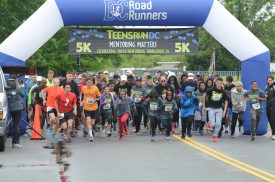 RRCA grants $40,000 to fifty-two youth running programs in thirty states and the District of Columbia.
ARLINGTON, Virginia – The Road Runners Club of America (RRCA) is pleased to announce the 2017 Kids Run the Nation grant recipients. Fifty-two programs from 30 states and the District of Columbia, serving more than 8,700 children, will receive a total of $40,000 in grants from the RRCA. RRCA member clubs, events, and sponsors, including FEETURES! performance running socks, have once again shown their support for gender-inclusive, participation-based running education through their contributions to the Kids Run the Nation Fund. The RRCA will also donate copies of the Kids Run the Nation: A Running Guide for Kids booklet to 80 additional programs, an in-kind donation valued at over $20,000.
Three Girl Scouts from troop #60777 are starting Runners of the Rockies, an after school running club at Carl Sandburg Elementary School in Centennial, CO. Open to all students at the school, the program will meet twice each week for eight weeks with a goal of completing the 10k or marathon distance before the Littleton Stride 5k & 10k Run/Walk and Kids Fun Run, which raises funds for the school district.
Also receiving a Kids Run the Nation grant are Parmelee Runners. In an effort to improve the health outcomes of members of their community in Parmelee, SD, the young people of the area surveyed residents to determine the programming and infrastructure wants and needs with regards to health and physical activity. Thus far they have planted gardens, obtained funding for a new baseball field, established sports teams to keep kids active. Next on their list is raising funds to build a multiuse path and sidewalk to better serve their Native American community, as running is part of the Native American culture.
Teens Run DC serves students in eight schools in Washington, DC, offering structured programming in the form of in-school groups, afterschool practices, Saturday practices, and training for distance races like the TRDC Mentoring Matters 5K and local events like the Jingle All the Way 5K and Cherry Blossom Ten Miler. The inclusive, participation-based program focuses on mentoring as a means of fostering positive personal, academic, and athletic development.
The youth running programs chosen to receive grants this year represent the diversity of the Kids Run the Nation Fund's impact, both geographically and demographically. The following is a complete list of this year's Kids Run the Nation grant recipients:
Tuskegee Mustangs – Tuskegee, AL
Roadrunner Milers – Tucson, AZ
Fitness Funatics – Tucson, AZ
Roosevelt Roadrunners – Long Beach, CA
Lake County Junior Milers – Middletown, CA
Dr. J. Michael McGrath Elementary School – Newhall, CA
Wellness Warriors Mileage Club – Racing to Healthy Lifestyles – Oceanside, CA
Runners of the Rockies – Centennial, CO
Aragon in Motion – Fountain, CO
Teens Run DC – Washington, DC
King Middle Running Club – Milton, FL
Stingray Running Club – New Smyrna Beach, FL
Stinger Bees Running Club and Cross Country – Sanford, FL
Flying Eagle Running Club– Honolulu, HI
Central Illinois Kids Running Club – Canton, IL
Students Run Chicago – Chicago, IL
Streator YMCA Kids Running Club – Streator, IL
RUN BGC – Huntington, IN
Little Charger Striders – Ligonier, IN
SJ Run Club – Louisville, KY
Mileage Club – Bangor, ME
Kids That Run – Baltimore, MD
FSRC Spires Youth XC and Track – Frederick, MD
Sole Train: Boston Runs Together – Boston, MA
Somerville Boys & Girls Club – Running Club – Medford, MA
Michael J. Perkins Owls – South Boston, MA
Teen & Pre-Teen Running Clubs – Stoneham, MA
Amanda Moore Run Club – Romeo, MI
Gage Gallopers – Rochester, MN
Run Oxford's Summer Track Series – Oxford, MS
KIDS Klub FitKids 5K – North Platte, NE
Community Middle School Running Club – Bound Brook, NJ
Running Stars – Bronx, NY
Rockland Road Runners Kids Summer Track Program and 2 Mile Race – New City, NY
ACDS Young Runners – Plainview, NY
Monroe Milers – Rochester, NY
Bulldogs on the Run – Siler City, NC
Elk Meadow Eagles – Bend, OR
S.O.A.R. – Students Overcome and Achieve through Running – Berwick, PA
Beresford Running Club – Beresford, SD
Parmelee Runners – Parmelee, SD
YMCA Run for Life – Chattanooga, TN
Pecan Trail Runners Club – College Station, TX
Kimball Running Club – Mesquite, TX
Nolanville Running Club – Nolanville, TX
John Doedyns Broncs Marathon Runners – San Juan, TX
Ascent Academies of Lehi Running Club – Lehi, UT
CES PTA Just Run – Christiansburg, VA
Highgate Library & Community Center's Cross Country Kids – Highgate Center, VT
Running Club – Sequim, WA
Eagles on the Run – Dorothy, WV
DMA Dash Training Club – Milwaukee, WI
"Engaging kids through participation-based running programs positively impacts their lifetime attitudes toward physical activity and directly combats the obesity epidemic," explained Erica Gminski, RRCA Youth Programs Coordinator. "This year's Kids Run the Nation grant applicants are filling voids in their local communities and deserve recognition for developing a generation of young people who value health, wellness, and fun. The creativity and generosity exhibited by our 52 grant recipients should be held as a standard for new and established programs alike."
About Kids Run the Nation: The Kids Run the Nation program is a gender inclusive, multi-week, turnkey, youth running program designed to meet the physical activity goals outline by the United States Department of Agriculture (USDA) for children in kindergarten through sixth grade. A midcourse report issued by the USDA, "Physical Activity Guidelines for Americans," outlines clear evidence that bringing physical activity into schools positively impacts youth. Since 2007, the RRCA has provided over $215,000 in small grants to deserving youth running programs around the country through the Kids Run the Nation Fund. The goal of the RRCA's Kids Run the Nation program is to help establish locally managed youth running programs in every ​school and community across the U.S.
About the RRCA: The Road Runners Club of America (RRCA) is the oldest and largest national association of running organizations and runners dedicated to growing the sport since 1958. The RRCA champions the development of community-based running clubs and events that serve runners of all ages and abilities in pursuit of health and competition. The RRCA's vision is to see an organized running club established in every community in the U.S. To learn more, visit: www.RRCA.org
# # #