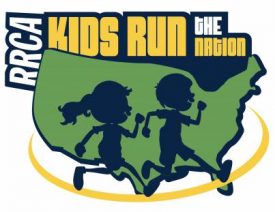 RRCA grants $40,000 to 47 youth running programs, doubling their grant making efforts for 2016.
ARLINGTON, Virginia – November 28, 2016 – The Road Runners Club of America (RRCA) is pleased to announce the 2016 Kids Run the Nation grant recipients. Forty-seven programs throughout the U.S., serving more than 28,000 children, will receive a total of $40,000 in grants from the RRCA.  This amount signifies a 100% increase in funding for 2016 due to strong support from RRCA members clubs, events, and sponsors, including Feetures! In addition, the RRCA will donate copies of the Kids Run the Nation: A Running Guide for Kids booklet to be given to program participants in 18 different programs, an in-kind donation valued at over $10,000.
One of this year's awardees is Kids Run SARR in San Antonio, TX. Started as a summer program by San Antonio Road Runners member Gabriella Hernandez, Kids Run SARR plans to expand into a year-round program utilizing the Kids Run the Nation curriculum. The fall session will meet three times each week to prepare kids ages 10 to 14 to run the Humana Rock 'n' Roll San Antonio 10k in December.
Also receiving a Kids Run the Nation grant is Active SWV Kids Run, led by executive director Melanie Seiler and Kids Run program director Malorie Polster in Beckley, WV. West Virginia is the third least active state in the country, and Active SWV Kids Run clubs target schools in Fayette, Summers, Nicholas, and Raleigh counties in southern West Virginia, all of which rank low in overall health outcomes and high in child poverty. Each inclusive, non-competitive program session takes place over 6 to 8 weeks each fall and spring in select elementary and middle schools, culminating in a celebratory fun run.
The YouthWorks Running Club is a new program proposed by the Cornerstone Assistance Network's YouthWorks Initiative in Tulsa, OK. Each year, 200 children in kindergarten through high school from low-income families participate in year-round programming, which includes a 10-week summer leadership camp, 30-week after school program, and three school break camps. Running Club will meet three days per week and utilize a one-mile running course nearby, with the running curriculum tying into the program's academic enrichment activities. In partnership with the Cherokee Nation's Cherokee Winds Running Program and a local Fleet Feet Sports store, young runners will have the opportunity to participate in Tulsa-area races free of charge.
The youth running programs receiving funding this year represent the breadth and depth of the Kids Run the Nation funds' impact, both geographically and demographically. The following is a complete list of this year's Kids Run the Nation grant recipients:
DeWitt Dragon Runners – DeWitt, AR
CAPS Running Club – San Bernardino, CA
Dragons Running Club – Oceanside, CA
Miller Milers – San Diego, CA
Running for a Better Oakland – Oakland, CA
Skyline North Mileage Club – Barstow, CA
Carrie Martin Running Club – Loveland, CO
Galaxy Travelers Mileage Club – Fort Collins, CO
Trailblazers Running Club – Stamford, CT
Florida Striders Children's Run/Walk Program – Orange Park, FL
Reptile Run – Wesley Chapel, FL
Semper Fit Kids on the Run – Kaneohe Bay, HI
Pritzker School – Chicago, IL
East Indy Striders – Indianapolis, IN
KidStriders 5Ks Club – Des Moines, IA
BCS Running Club – Belgrade, ME
George Cromwell Running Club – Glen Burnie, MD
Boys & Girls Club – Boston Marathon Program – Salem, MA
Kids Run The Nation-Junior League Great Lakes Bay Region (KRTN-JLGLBR) – Saginaw, MI
Jerry Gamble Boys and Girls Club Run Club – Minneapolis, MN
OIS Cross Country Club – Oxford, MS
Field Fleet Feet – Chillicothe, MO
Saint Louis Blazers – St. Louis, MO
Kids on the Move Program – Billings, MT
KIDS Klub FitKids 5K – North Platte, NE
CES Running Club – Cottonwood Elementary School – Fernley, NV
NCH Running Group – Nashua, NH
EC Myer Running Club – Hurley, NY
Traveling Tigers – Greensboro, NC
Kids on the Run – Killdeer, ND
Saville Elementary Road Runners – Dayton, OH
YouthWorks Running Club – Tulsa, OK
Adams In Motion – Corvallis, OR
Bridgeport Blazing Bulldogs Running Club – Tualatin, OR
Little Colts Running Club – Bridgeville, PA
Run Southwest – Philadelphia, PA
Cherrydale Elementary Panther Pack – Greenville, SC
Hammond Hill Elementary School Breakaway Bees – North Augusta, SC
Melanie Douglas – Lexington, TN
Run Livingston – Livingston, TX
Team Kids Cafe – Lubbock, TX
Kids Run SARR – San Antonio, TX
Randolph Runners – Arlington, VA
Franklin Military Academy – Richmond, VA
Bordeuax Elementary Lap Club – Shelton, WA
Active SWV Kids Run – Beckley, WV
BGCS Run Club – Milwaukee, WI
"Participation-based youth running programs that engage kids in a positive way early in life will have a profound impact on lifetime attitudes toward physical activity and will directly combat the obesity epidemic," explained Erica Gminski, RRCA Youth Programs Coordinator. "The programs we are funding this year, along with the nearly 250 other programs that applied for this year's grants, are implementing solutions in their local communities that deserve recognition. As long as it's fun, kids will keep coming back."
About Kids Run the Nation:
The Kids Run the Nation program is a gender inclusive, multi-week, turnkey, youth running program designed to meet the physical activity goals outline by the United States Department of Agriculture (USDA) for children in kindergarten through sixth grade. A midcourse report issued by the USDA, "Physical Activity Guidelines for Americans," outlines clear evidence that bringing physical activity into schools positively impacts youth. Since 2007, the RRCA has provided over $175,000 in small grants to deserving youth running programs around the country through the Kids Run the Nation Fund. The RRCA's vision is to help establish locally managed youth running programs in every grade school in America.
About the RRCA: 
The Road Runners Club of America (RRCA) is the oldest and largest national association of running organizations and runners dedicated to growing the sport since 1958. The RRCA champions the development of community-based running clubs and events that serve runners of all ages and abilities in pursuit of health and competition. The RRCA's vision is to see an organized running club established in every community in the U.S. To learn more, visit www.RRCA.org.