Riders enjoy fully closed roads at inaugural Oakley GFNY Barcelona
March 24, 2015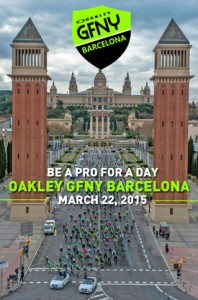 Oakley GFNY Barcelona on March 22, 2015 was the first ever mass-participation cycling event in Barcelona, Spain. A sold-out field of 1000 riders from 27 countries tackled the challenging course that started and finished in the heart of the city at the famous Montjuic.
Riders enjoyed completely closed roads through Barcelona, on the main highway out of town and along the spectacular coastal road past Garraf. The GFNY Barcelona course is similar to the pro race Vuelta Catalunya's 2015 Stage 7. Local and regional police forces were out in droves on motorbikes and in cars to close roads in a similar fashion for Oakley GFNY Barcelona's participants, ensuring a safe event and providing the right of way for all riders along the whole route.
"Only a handful of events in the world provide such ample police support and perfectly orchestrated rider safety, in particular in a large metropolis like Barcelona," says Uli Fluhme, co-founder and CEO of GFNY World, a global series of granfondo events based out of New York City. "Staging a granfondo is always a logistical challenge because cyclists use up to 200km of public roads and are stretched out over up to six hours. Staging a granfondo in and around a metropolis like Barcelona adds yet another layer of complexity given the dense traffic. But even in this inaugural edition, the safety of the participants and their enjoyment of Oakley GFNY Barcelona was never compromised. I'm proud of the local team's hard work to put on an event of this magnitude."
Athletes were able to choose between a 111-mile / 178km long route with 9,500ft / 2,900m of climbing and a medium route of 70mi / 115km with 6,500ft / 2,000m of climbing. The first 10% in each age category qualified for a racer corral start at the inaugural GFNY Championship on May 17, 2015 in NYC.
Barcelona is the world's second-most photographed city (after NYC), which demonstrates its touristic value. Mild temperatures in March and ideal riding conditions in the area make it the perfect place for cyclists to come for a spring training camp culminating in Oakley GFNY Barcelona. Organizers expect to double the participant field for the 2016 edition and aim to reach 5000 riders within five years.
The last stop of the GFNY World tour before the Championship in NYC on May 17, 2015 will be CRM GFNY Colombia held in Bogota on April 26, 2015. It will be world's highest granfondo, reaching an altitude of 11,000ft / 3,356m. The recent resurgence of professional racers from Colombia has further sparked the country's enthusiasm for cycling. CRM GFNY Colombia promises to be yet another exciting GFNY World event.
More information:
A rider's view of the race can be found in his clip here. The official event video and pictures will be available shortly.
About Gran Fondo New York
The 5th annual Campagnolo Gran Fondo New York on May 17, 2015 will be the first GFNY Championship. The race features the world's most international peloton with riders from over 70 countries and 48 US states. Athletes will take on a challenging 100-mile route from NYC to Bear Mountain and back to compete against each other, the clock and themselves in a personal endurance challenge.
The 50-mile GFNY BEAR on the same day is a non-competitive ride from NYC to Bear Mountain.
GFNY WORLD now features events in Italy, Mexico, Puerto Rico, Colombia, Spain, France and Argentina. Campagnolo Gran Fondo New York raises funds for Operation Smile, the international children's medical charity.
The official Gran Fondo New York website is: gfny.cc.