Results of Event Management Study from Running USA Now Available
February 11, 2019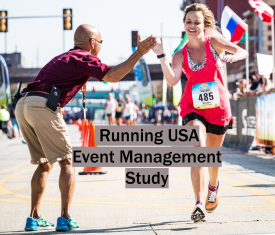 SAN JUAN, Puerto Rico (Monday, Feb. 11, 2019) – At its annual Industry Conference here, the national non-profit trade organization that works in support of the running industry has released the results of its latest Running USA Event Management Study.
The study, which is based on the input of event management professionals from events of all sizes around the United States, includes summary event data, expectations, stresses and projections for the year ahead.
The Running USA Event Management Study is now available for purchase here. The results will be emailed to purchasers after checkout.
"We express our thanks to all who participated in this invaluable study, which takes the pulse of event management professionals," said Rich Harshbarger, Running USA CEO. "The results provide insight into the challenges that events are facing, and help us develop most relevant educational resources for the industry to help address those concerns."
Running USA uses the results of the study to help guide its programming and content in ways that will benefit event professionals most.
A few of the interesting summary highlights from the study include:
The 5K is the most popular distance race produced, however, half-marathons generate the most participants.
Registration fees continue to lead the way as the greatest revenue generators for event managers. Looking for ways to diversity revenue will be a hot topic in 2019 and beyond.
The study includes insight into the average cost for t-shirts, medals, timing, marketing and police presence at events. Find out if you are paying too much or beating the industry average.
Insight into sponsorship and marketing practices by event managers is part of the study results.
The Running USA Event Management Study was conducted over six weeks from late November 2018 to early January 2019.
Find the study available for purchase here.
About Running USA
Running USA is a tax-exempt, not-for-profit organization devoted to improving the status and experience of distance running and racing in the United States through collective marketing and promotions, information and communications within the industry and to the national media, services to events and industry members, and the development of American world class stars. It seeks the advancement of the sport and the provision of value to each of its members' events and businesses. For more information, visit RunningUSA.org