Renegade Racing's iTRYathlon Returns to Irvine
August 19, 2013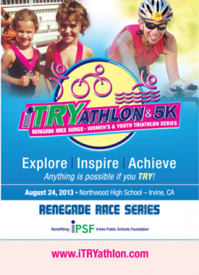 2nd Annual Community Fitness Event in Support of Irvine Schools
Irvine Public Schools Foundation (IPSF) is once again the designated charity of Renegade Racing's all women and youth iTRYathlon and 5K to be held Saturday, August 24, 2013, at Northwood High School in Irvine.  The events are designed for all fitness levels and abilities.  Last year's event brought out nearly 1000 community members who either participated, volunteered or came to cheer on family and friends as they crossed the finish line.
The main event for women and youth (boys included) ages 8-13, is a 3 mile run, a 9 mile bike ride, and a 200 meter swim.  The swim portion takes place in Northwood High School's pool.  The Junior Triathlon for kids ages 6-12 (boys included) is a ½ mile run, a 2 mile bike ride, and a 50 meter swim.  There is also a 5K Run/Walk for women and youth and a 2K fun run for kids. Men can join the festivities by volunteering at the event and cheering the ladies and kids to the finish line.
Participants have the opportunity to raise money for IPSF while enjoying training with their friends and family.  "IPSF is excited about once again being a part of a community event that promotes fitness and supports our schools at the same time." said Neda Eaton, CEO of IPSF.
Race Director Jonathan Pauley designed a beautiful and scenic course along the foothills of Irvine.  "The course is great – it starts and finishes at Northwood High School.  The run takes participants behind the school with picturesque views of Irvine.  There is about a mile of a nice hill climb, but the view from the top is worth it.  The bike ride will go out and back and loop down Portola Parkway between Culver and Jeffrey.  The swim will take place in the high school's pool," said Pauley.  "We wanted to create a fun, safe environment for women and kids to experience a triathlon.  Many women are intimidated by participating alongside men or swimming in the ocean.  We've eliminated those elements to create an event where women feel comfortable competing."
For more information, please visit www.iTRYathlon.com.