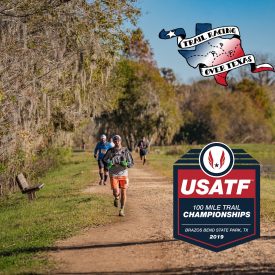 Houston, Texas (January 10, 2019) – Trail Racing Over Texas, organizer of the Brazos Bend 100 Trail Race, announces today registration for the 2019 USATF 100 Mile Trail Championship will open on Friday, January 11, 2019 at 9am CST. Prospective runners can learn more about the race and register here.
"It is a dream come true to be able to host the 2019 USATF 100 Mile Trail National Championship at Brazos Bend" said Trail Racing Over Texas Race Director Robert Goyen. "This event is sure to showcase some of the nation's best ultra-distance athletes as well as the vibrant Texas trail running community."
The Brazos Bend 100, profiled in the 2016 short film Texas Trail Blazer, is one of the fastest 100 mile trail races in the United States. The event has seen a lot of growth over the years and has been sold out the last four years.
"We're thrilled to have Brazos Bend in the mix this year to host our USATF 100 Mile Trail Championships," said Nancy Hobbs, chairperson of USATF's Mountain Ultra Trail Council. "Rob and his team have a record of staging outstanding events and we are confident every participant will enjoy the course, the logistics, and the atmosphere surrounding Brazos Bend."
"Brazos Bend not only showcases the park to people from all over the country but reminds Houston area residents about this jewel in their own backyard" says Brazos Bend Park Naturalist David Heinicke. "Brazos Bend will be a great running destination for the participants competing for the National Championship."
The 2019 edition of the Brazos Bend 100 takes place on December 7-9 at Brazos Bend State Park just outside of Houston Texas. The event will be limited to only 900 participants and will sell out. Athletes are encouraged to register early to lock in there spot at the starting line.
For sponsorship or general information about Trail Racing over Texas and the Brazos Bend 100 please contact Robert Goyen at rob@trailracingovertexas.com.
ABOUT TRAIL RACING OVER TEXAS
Trail Racing Over Texas (TROT) produces the largest trail running series in Texas with over 20 races offering a variety of distances from 5k's to ultra-marathons, kids only races and night races. TROT is a community-based company that aims to involve and benefit local communities by giving back in various ways. TROT is also devoted to bringing greater awareness to the Texas State Parks and Wildlife Department by placing races in beautiful Texas State Parks. Learn more at www.trailracingovertexas.com.