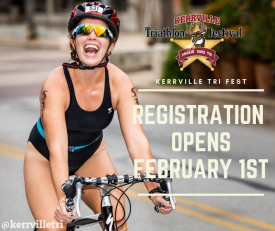 AUSTIN, Texas, February 1, 2019 – Registration for the 2019 Kerrville Triathlon Festival will open on Friday, February 1st. The 9th annual Kerrville Triathlon weekend will take place September 27-29, in Kerrville, Texas. Last year, more than 1400 triathletes competed in eight different events that included a swim course in Nimitz Lake, bike course through the Texas Hill Country, and run course along the Guadalupe River. All participants who register on Opening Day will automatically receive an additional $5 off.
"The Kerrville Triathlon continues to grow, exposing more triathletes to the Most Scenic Triathlon in Texas and the welcoming City of Kerrville," said Stacy Keese, co-owner of High Five Events. "We look forward to another banner year while showcasing the beauty of the Texas Hill Country."
The Opening Day Best Pricing structure for all events follows: Debra Zapata Sprint ($80), sprint aquabike ($80), sprint relay ($140), quarter ($130), quarter aquabike ($130), half ($200), half aquabike ($200), half relay ($260), kids fun run (free), Virtual Kerrville Triathlon, which can be associated with any distance ($45). After Friday, Feb. 1st, all prices will increase by $5.
Athletes will receive a belt buckle finisher's medal, customized shirts, reusable custom water bottles, personalized race bibs, swim caps, a post-race meal including fajitas and tacos from H-E-B, fruit, snacks, beer and an opportunity to float in the Guadalupe River. Professional timing and photography, a great volunteer crew, hundreds of supportive spectators, and an electric finish line festival will showcase why the Kerrville Triathlon is one of the best triathlons in Texas.
The Debra Zapata Sprint distance, sprint relay, and kids fun run take place on Saturday, Sept. 29th. Quarter distance, quarter aquabike, half distance, half aquabike, and half relay will all happen on Sunday, Sept. 30th. Participants can pick up their packet at the Kerrville Triathlon Expo and Packet Pickup at the host hotel, Inn of the Hills. The expo and packet pickup, which is free and open to the public, will take place on Friday, Sept. 27th, and Saturday, Sept. 28th. Participants can see the pricing structure and register on the website.
About High Five Events: Beginning with the launch of a single triathlon in 2003, High Five Events has grown to become one of the largest privately owned event production companies in the United States. In addition to the events it owns and produces, the Austin, Texas-based company offers consulting and event production services to dozens of additional events each year. High Five Events is a community-centric company with more than 100 years' experience organizing large events across different venue types in a variety of locations. Follow High Five Events on Twitter (@highfiveevents), Instagram (@highfiveevents), and Facebook (facebook.com/HighFiveEventsWorldWide/) for news and updates.