Ran Margaliot Joins Terrano as Managing Director
February 6, 2019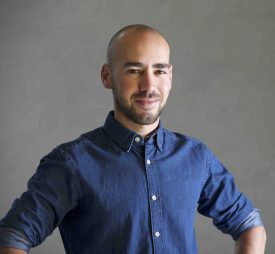 (Plano, Texas – February 6, 2019) – TerranoTM  Cycling Communication Technologies is proud to announce Ran Margaliot as the company's new Managing Director. Margaliot, visionary entrepreneur and former professional cyclist, will partner with Terrano following four years as General Manager of UCI Professional Cycling team Israel Cycling Academy.
Margaliot's vision of increasing the accessibility of the sport and improving the global safety of cycling aligns with Terrano's mission and innovative technology. 
In his new role with Terrano, Margaliot will serve as the company's Managing Director, leveraging his managerial skills and pro-cycling experience to help further grow the Terrano brand and raise the global awareness among cyclists of advanced communication technologies to improve riding quality and safety. 
"I am excited to have found in Terrano the kind of products I felt missing during my years as a professional competitive rider, but also whenever I ride for pure leisure.  Terrano's communication devices above all are turning cycling into a safer environment. It is an important mission and one that is relevant to any cyclist, at any level and discipline around the world. I'm looking forward to an exciting journey together," commented Margaliot.
In addition to his new role with Terrano, Margaliot remains committed to development of the cycling discipline in Israel, focusing on the young generation and leading the country's first excellence school of cycling.
Dr. Avi Glezerman, Founder and CEO of Cardo Systems, Terrano's parent company said,  "I have followed Ran's amazing career and a pro for several years, and I am thrilled to get him on board of Terrano. Coupling Ran's pro-cycling experience and entrepreneurial energy with Cardo's technical prowess as reflected in the Terrano products, will have a great impact on the cycling world."
ABOUT TERRANO
TerranoTM , a subsidiary of Cardo Systems, is a pioneering and highly innovative company, developing wireless communication products to connect adventure and safety. Terrano XT is the latest product, designed to enhance the riding experience and bring communication safely to cyclists., Terrano empowers bicycle riders through communication, bringing the ability to communicate for a more enjoyable and safer riding experience. Having launched the first system in 2015, Terrano continues to develop high-end communication and entertainment systems for cyclists, sharing the passion for the human connection and the outdoor adventure. Terrano's products are driven by innovation and reflect a decade and a half of technology research and development. terranosystems.com
ABOUT CARDO
Cardo Systems specializes in the design, development, manufacturing and sale of state-of-the-art communication systems for motorcycle riders. Since inception in 2004, Cardo has pioneered the vast majority of innovations for Bluetooth motorcycle communication systems word-wide. The company's products, now available in over 85 countries, are the world's leading communication devices for the motorcycle industry. cardosystems.com
ABOUT RAN MARGALIOT
Ran Margaliot is a former professional cyclist, who raced for World-Tour teams: Team Saxo-Bank and Footon-Servetto. Retiring from the sport at a young age, he took his passion for the sport to found UCI Professional Cycling Team Israel Cycling Academy, Israel's first Pro Cycling Team, where he served as the General Manager between 2014-2018. 
Margaliot was the visionary behind the historic arrival of the 2018 Giro d'Italia start to Israel. In 2015, he initiated the "Giro d'Italia Big Start" project, that lead to the arrival of the Giro start to Israel in 2018, the first time a UCI Grand-Tour race started outside Europe. With his joining Terrano, he will use his experience to help expand the usage of the communication systems further among cyclists from all over the world.
Photo Credit: Terrano 
Caption: Ran Margaliot takes role as Terrano's new Managing Director.