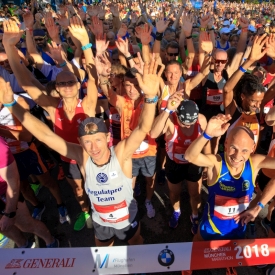 Innovation leader in sports timing and scoring, announced the release of a success story providing technical insights into the further development of its passive timing system.
In collaboration with global industry partners NXP Semiconductors and Zebra Technologies, race|result hit another innovation milestone in UHF timing technology by creating the first sports-specific UHF transponder and evolving its decoder significantly.
NXP's latest UCODE 8 RAIN RFID chip is the heart of the new race|result Passive Transponder, which was rolled out in late 2018 and enjoys great popularity with timers all around the world due to his reliability even in rough conditions. Zebra adjusted its new RFID reader FX9600 for race|result to fit the special needs of a timing system.  This reader is now installed into the race|result Decoder 5000S Series, offering longer battery life and even higher sensitivity.
"Reliable technology comes from trustful collaboration. Thanks to the support of NXP and Zebra we were able to take the race|result Passive System to the next level. The case study shows how demanding it is to develop a high-end UHF system for race timing – and why it's worth the effort", says race|result CTO Nikias Klohr.
The success story was written and published by NXP and is free for pdf download here: