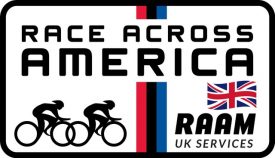 Leadership Challenges Confirmed As Exclusive UK Logistics Partner
Boulder, CO (January 25, 2019) – Race Across America (RAAM), the world's toughest bicycle race, is excited to announce a long-term partnership with Leadership Challenges, a UK based non-profit. This agreement ties the iconic race with an experienced group capable of providing full logistical support and race preparation for any racer/team wishing to race. This opens the doors for racers who want to race but face the often overwhelming challenging issue of logistics and preparation for RAAM.
Leadership Challenges offers participants its unique expertise in logistics, planning and preparation through a developed and dedicated community. Drawing on several years of experience they offer full tailored training programs and logistics support through a team of specialists, including; nutritionists, physiotherapists and experienced RAAM mentors. Through this program they build an understanding of what it takes to have a successful race and establish a true esprit de corps.
"Further to several very successful years of engagement with the directors of RAAM and in competing in Race Across America, the board of Leadership Challenges are extremely pleased to have formalised the partnership with RAAM to unveil the launch of RAAM UK Services. As an operating venture under the Leadership Challenges banner, this strategic move will position RAAM UK Services as the UK's gateway to racing or crewing RAAM; as a solo racer or as a 2-, 4- or 8-person team.
We see the agreement, which will bring RAAM and Leadership Challenges together for the long term future, as a highly exciting one for all parties involved. With an impressive and growing alumni of people that have either raced or crewed RAAM through Leadership Challenges, we are delighted that the board of directors of RAAM have recognised our position as the leading RAAM authority in the UK and look forward to what the collaboration between the 2 organisations will deliver. This agreement enables Leadership Challenges to be a tangible reach-back facility in the UK for all those building up to the race," states John Hall, Chairman, Leadership Challenges.
"We look forward to working with a professional group of experienced racers and crew that can provide this type of service. RAAM has grown into a truly international race, drawing racers from twenty countries each year. Organizing a team to come to race RAAM from anywhere overseas can be a daunting task, to be sure. Having had a close relationship with Leadership Challenges over the past few years, we are sure that there is no more capable group of people to provide all of the preparation and support any racer/team would need, should they desire that service," Rick Boethling, executive director RAAM.
RAAM is a life changing race for any participant. Every participant that works with Leadership Challenges will be full immersed in their program, playing a key role in having an excellent race experience. That experience will leave a lasting impression of self-discovery, accomplishment and confidence.
For further information please contact:
John Matthews, Chief Commercial Officer
Leadership Challenges
jmatthews@leadershipchallenges.org
Rick Boethling, Executive Director
Race Across America
director@raceacrossamerica.org
More About RAAM
Race Across America, Inc. and Team Get Outdoors, LLC (dba Soul Events) are world leaders in the sport of ultra-bicycle racing. The Race Across America (RAAM), a 3,000-mile coast-to-coast race across the USA, is the world's premier ultra-cycling race – the World Championship of Ultra-Cycling. The Race Across the West, a 900-mile race across the Western US, the RAAM Cycling Challenge Series of ultra road races, and the 6-12-24 Hour World Time Trial Championships are all part of the RAAM brand. In addition, RAAM offers seminars on ultra bicycle racing and sanctions ultra-cycling races worldwide.
About Leadership Challenges
A social enterprise, Leadership Challenges aim is to give everyone the chance to be all that they can be. Our adventures stretch participants both mentally and physically, developing leadership capacity, raising awareness and essential funds for charitable causes.
###