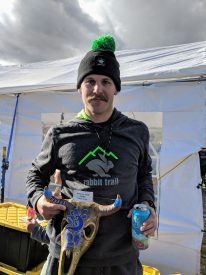 Santa Barbara, California — For rabbitPRO Dani Moreno, Saturday was a day of firsts. Racing in wet and windy conditions at the FOURmidable 50k in Auburn, California, Moreno paced herself to the win and her first USATF National Championship. The win was all the more impressive considering the fact that it was also Moreno's first ultramarathon, marking the culmination of a long journey from her days as a track standout at UC Santa Barbara. Ever a beacon of positivity, Moreno noted that "the whole experience was made so much better because of all the great women I got to run the rainy, sloppy conditions with!"
While Moreno was slopping through mud and rivers, her teammate Sandi Nypaver was hard at work in the desert of Utah, with snow, ice and mud greeting racers at the Moab Red Hot 55k and 33k. Nypaver was heading toward a win of her own in the 55k, where she bested her nearest competitor by almost ten minutes. Running in the 33k, rabbitPRO Anthony Costales was victorious as well. A runner with remarkable versatility, Costales—who is the owner of a 2:13:12 personal best in the marathon—regularly switches between road and trail racing to keep things interesting.
Another runner who always knows how to keep things exciting is rabbitPRO Eric Senseman, who toed the line at the Black Canyon 100k in pursuit of his second consecutive Golden Ticket entry to the Western States Endurance Run. Racing in a field stacked deep with fellow professionals, Senseman raced with passion and patience, outrunning all but two of his competitors. Indeed, it was only in the closing moments of the one hundred kilometer race that Senseman was passed by Chris Mocko, who finished in second place behind his Nike teammate Matt Daniels.
With Mocko already in possession of his own Golden Ticket, the opportunity passed to an elated Senseman. As he noted in his race report, his history with this particular race made the accomplishment even more special. "This was my third year in a row trying for a Golden Ticket at the Black Canyon 100k. I had failed twice, and that made success on the third try ever so sweet. I savored every second of that triumph as I walked the final meters and crossed under the finish arch grinning ear-to-ear."
###
About rabbit: Crafted in California, rabbit is the best running apparel for men and women available anywhere. You can find rabbit at independent specialty running retailers throughout the nation or online at runinrabbit.com