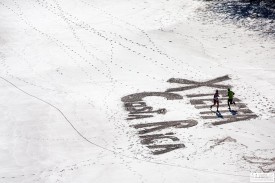 The "Live More" spirit of XTERRA meets the essence of "Pura Vida" in Costa Rica when the first race of the inaugural XTERRA Pan American Tour gets underway on the beautiful beaches of Guanacaste this Sunday, March 20.
Playa Conchal, Costa Rica (March 17, 2016) – The "Live More" spirit of XTERRA meets the essence of "Pura Vida" in Costa Rica when the first race of the inaugural XTERRA Pan American Tour gets underway on the beautiful beaches of Guanacaste this Sunday, March 20.
XTERRA fans from around the world are invited to tune-in to the live coverage of the event starting at 7:30 a.m. local time (also 7:30am in Colorado and Tapalpa, 9:30am in New York, 10:30am in Argentina and Brazil, 2:30pm in France, and 3:30pm in Stellenbosch). The link to the broadcast URL will be published at costaricaxterra.com and on Facebook (https://www.facebook.com/XterraCostaRica/) Sunday.
What viewers can expect to see is hundreds of athletes from more than 20 countries challenging Mother Nature at the beach resort of Reserva Conchal. Among those athletes line up for XTERRA Costa Rica is the sports very-best racer, reigning XTERRA World Champion Josiah Middaugh.
Middaugh, who has finished 2nd to local triathlon legends Leonardo Chacon in 2014 and Rom Akerson last year, is hoping the third time is a charm for him in Costa Rica. Winning won't be an easy task for the champ, however, as he just arrived today from a snowstorm in Colorado that was bad enough that he had to pull over to the side of the road on his drive to the airport for an hour to wait for it to subside.
"It'll be interesting, that's for sure, but I'm really looking forward to it" said Middaugh. "I haven't been on the dirt yet this year, I'm on a new bike, and conditions are just a little different here than back home. Last year I cramped on the run for the first-time ever during a race so I tried to prepare myself a little bit this year. Did some steam room training at the Westin."
Akerson, on the other hand, lives and trains year-round in the hot and dry tropical forests nearby where all of nature is his steam room.
"Costa Rica is an amazing place and it's my home country, so I think it is a perfect place to have an XTERRA," said Akerson. "It really is a beautiful country. We have nice beaches, great weather, and amazing people. Plus, we believe in "Pura Vida" which means pure life. XTERRA's motto is "Live More" which has about the same idea."
XTERRA European Tour runner-up Francois Carloni is also on the elite men's list, and has been training in Costa Rica in the build-up to this event. Carloni is joined by fellow Frenchmen Karl Shaw and Pierre Roblot, American Greg Schott, who won the 15-19 XTERRA National Championship last year, and local elite Federico Villegas.
In the women's race Myriam Guillot-Boisset, who won XTERRA Malaysia and finished 4th at the XTERRA World Championship last year, headlines a field that includes three of the top 13 women from the 2015 XTERRA U.S. Pro Series in Kara LaPoint (5th), Rebecca Blatt (10th), and Caroline Colonna (13th).
We will also see the XTERRA debut of American long-distance road triathlon star Caitlin Snow, winner of IM France last year, French elite Camille Donat, and Brazilian XTERRA standout Sabrina Gobbo.
In the amateur race there are representatives from each of the Pan American Tour countries – the U.S., Canada, Mexico, Argentina, Dominican Republic, Brazil, and the hosts from Costa Rica.
Of particular interest is the reigning XTERRA Warrior Award winner and cancer survivor Dave Desantis, who is on a mission to compete in 16 XTERRA races in 16 countries around the world this season with a goal to raise more than $16,000 for the Challenged Athletes Foundation. This is the third XTERRA of the year for Desantis, who raced XTERRA Philippines and XTERRA South Africa in February, and he's already raised more than $10,000 towards his fundraising goal.
The inaugural XTERRA Pan American Tour was created this year to connect the sports' major events in South, Central, and North America as well as the Caribbean.
The inaugural 10-stop series for both amateur and professional athletes starts Sunday and concludes September 17 with the XTERRA Pan American Championship race in Ogden, Utah.  In between are two majors in the U.S., two in Canada, and one each in Argentina, Brazil, Mexico, and the Dominican Republic.
2016 XTERRA PAN AMERICAN TOUR
March 20 – XTERRA Costa Rica (Playa Reserva Conchal) *SILVER
March 26 – XTERRA Argentina (Dique Ullum, San Juan) *GOLD
May 7 – XTERRA Brazil (Ilhabela) *SILVER
May 21 – XTERRA Oak Mountain (Pelham, AL, USA) *GOLD
June 25 – XTERRA Mine Over Matter (Milton, ON, CAN) *SILVER
July 10 – XTERRA Victoria (B.C., CAN) *SILVER
July 16 – XTERRA Beaver Creek (Avon, CO, USA) *GOLD
July 31 – XTERRA Dominican Republic (Barahona) *GOLD
Aug 6 – XTERRA Mexico (Tapalpa) *GOLD
Sep 17 – XTERRA Pan American Championship (Ogden, UT, USA)
"Creating the Pan American Series aligns our events in the Americas with our structure in Europe and Asia-Pacific regions, and provides a platform for our Canadian, Latin & South American friends to be part of a competitive regional series of events," said XTERRA managing director Dave Nicholas.
The XTERRA Pan American Tour will feature Gold and Silver level events, just like the XTERRA European Tour, where Gold events award points on a 100-point basis and Silver races award points on a 75-point basis.
GOLD POINTS: 100-Point Basis
1=100, 2=90, 3=82, 4=75, 5=69, 6=63. 7=58, 8=53, 9=49, 10=45, 11=41, 12=37, 13=34, 14=31, 15=28
SILVER POINTS: 75-Point Basis 
1=75, 2=67, 3=61, 4=56, 5=51, 6=47, 7=43, 8=39, 9=36, 10=33, 11=30, 12=27, 13=25, 14=23, 15=21
Gold events offer the equivalent of $15,000 USD in elite prize money to the top seven men and women, plus 50 spots into the XTERRA World Championship for amateurs.
Silver races offer the equivalent of $7,500 USD in elite prize money to the top five men and women, plus at least 25 spots into the XTERRA World Championship for amateurs (the exception is XTERRA Brazil, which offers 50 spots to Worlds).
The XTERRA Pan American Championship race in Utah will offer $20,000 USD for the race and distribute an additional $60,000 USD in prize money to the top 10 men and women in the final XTERRA Pan American Pro Series rankings.
"I think it could really re-energize some of the pros that might be stale with the same races and open up to some other pro athletes to be competitive, especially in Mexico, Canada, Central and South America," said Middaugh, who plans on racing six or seven of the 10 events on the Tour this year.
Elites and amateurs competing in the XTERRA Pan American Tour count their best four scores (two Gold, two Silver) from the first nine events plus whatever they get, or don't get, at the XTERRA Pan American Championship race which will be scored at the 100-point level.  Five Scores Total.
Thus, the final point total combines an athletes best two Gold scores, best two Silver scores, plus their XTERRA Pan American Championship race points.
Athletes can race in as many of the five Gold events as they like, but just their best two will count at the 100-point level, with other Gold finishes counting at the 75-point level.
Amateur athletes need to race at least two (any two) XTERRA Pan American Tour majors listed in schedule above to be eligible for Tour honors at the end of the season, and athletes from all nations are welcome to race in the one-day XTERRA Pan American Championship race as no qualification is necessary.
"This point structure gives amateurs and elites from all over the region a legitimate shot at the Pan Am Title," said XTERRA President Janet Clark.  "It also encourages exploration and an opportunity to discover some amazing places."
Learn more at www.xterrapanam.com.
ENRIQUE WONG, THE ORIGINAL TICO OF XTERRA
As the saying goes, there is a first for everything, and the first-ever XTERRA racer (and organizer) from Costa Rica was Enrique Wong.
"The first time I saw XTERRA was in a magazine. It was an ad for XTERRA Half Moon Bay in Northern California, and when I saw it I told myself it would be my next event," explained XTERRA Costa Rica organizer Enrique Wong from Unlimited Productions.
At the time Wong was working for the airlines and consumed with travel, training, and work and XTERRA was just laying the foundation for the sport across the U.S.
"The combination of mountain biking and triathlon was amazing to me," said Wong.  "At the time I was training on a road bike but I was born and raised close to the nature, the beach, the mountains, and that's how I lived. I'm an adventure guy and I saw that XTERRA was pure adventure mixed with the adrenaline of racing and excitement of travel.  It was a perfect combination of all the things that I loved."
Wong chased XTERRA around the world – to Richmond, Virginia and to Mexico and Temecula and to Maui for Worlds, and he fell in love with it all.
"XTERRA for me is a way of living, Pura Vida!" he exclaimed.
We caught up with Wong this week as he prepares to host the XTERRA Pan America Tour season-opener this Sunday at Playa Reserva Conchal in the Province of Guanacaste.
XTERRA: Why did you decide to produce XTERRA in Costa Rica?
Enrique Wong: When I started XTERRA I really got attached to it so I've kept racing all these years. At one point, maybe 10 years ago, I thought why not have an international event in Costa Rica. We have everything here, the nature, the people, everything for a great XTERRA event and I knew I could do it. Back then I was the only one going back and forth to XTERRA, but I thought if I could expose the sport to our people they would love it too. So that became my goal, to bring this event to the Costa Rican people.
XT: Have you seen the sport growing in Costa Rica?
EW: It's been amazing. One of the first guys I came up with was Rom Akerson, and now his kids are on to XTERRA as well. I saw little kids that were 15 when I brought XTERRA here for the first time and now they are competing to go to Hawaii. It's really nice. I've been telling them the experience of racing Worlds. Being so young and traveling to Hawaii is a dream for them, as it was a dream for me at the time. The main thing is, as I've seen in Maui, is to be part of the family of XTERRA, the XTERRA Tribe, and that is how they feel now.
XT: It seems you are not only showing XTERRA to Costa Rica, but you are also showing the beauty of Costa Rica to the world?
EW:  Yes, we have 20 countries represented this year. It is important for us because the government is looking to us to see how these types of events are powerful ways to showcase our country.
XT: You've also put a lot of effort into televising the event, tell us about that.
EW: Last year we had people from all over the world, New Zealand, Australia, South America, Europe, South Africa and the U.S. tuning in to watch online (7:30am MST, find link to live broadcast at www.costaricaxterra.com). It's also broadcast on the biggest cable channel in Costa Rica at the same time.
XT: Tell us when your love for traveling started.
EW: When I was 11 I was an exchange student to Wisconsin, and I've loved experiencing other cultures and places ever since.  Mixing the sport which I love with traveling is the perfect way to live I'll say.
XT: What kind of experience are you hoping to deliver with XTERRA?
EW: The experience we want to give all the racers is about the community, to have that interaction with Costa Rican people if they're from other countries; and for the local people to feel at home and be well treated at the event.
XT: What do you think about the new XTERRA Pan American Tour?
EW:  I just love how XTERRA has been growing, and it's been growing really nice in a business way. I believe the Pan Am Tour is going to work. I know it's going to work. We will work to have a really good interaction between all the countries involved. I know the people from Latin America will be very interested in racing the Pan American Tour.
XT: Why do you choose this date in March for XTERRA Costa Rica?
EW: The idea is to take visiting athletes from the winter season and provide them with a small break and start their training and racing season in some warm weather. Instead of going to Florida, come to Costa Rica and spend a week here.  It's close to Easter week so they can have a vacation mixed with a race in warm weather and the whole family. That is what we are trying to communicate.
XT: Tell us a little bit about the course in Conchal.
EW:  Sure The swim is two loops, 750-meter each, with a beach run in between. The water is perfect. The bike starts with some pretty loose sand and they'll ride on the beach where there are no shadows, and you see the blue water in front of you, sand is shining in your eyes.  Here you think, this is XTERRA. It's a 30K bike and then a 10K run.  It's a really nice course in between the swimming, riding, and running. Some trails on the bike are like riding on the volcano rocks, loose, light rocks. It's a whole mix of what Maui has as well, a good combination of what to expect from XTERRA.
XT: Is there a signature spot on the course?
EW:  Yes, Rompe Piernas (translated to Breaking Legs Hill).  It's a big climb and then really technical downhill about 10K into the bike.
XT: What can racers expect to see this weekend?
EW: You're going to see friendly people, Pura Vida people.  It'll be hot.  We tell everybody just to hydrate all the time. Good thing is while the run isn't easy, there are a lot of shadows because it's in the jungle, so that is nice.
XT: Is it hard for you to be director and not racer, do you wish you were out there?
EW: Yes, of course, I wish I could race but it's also really satisfying to put on the race. My goal was to bring an XTERRA here to Costa Rica for everybody. There are a lot of people who cannot travel to races. Hosting it here gives this same experience, same quality of event as other places, but in their hometown. For me it's satisfying to accomplish that down here.
XT: Tell us a little bit about your company.
EW: It's called Unlimited Productions. My idea is to have this really open concept of company which produces sport, TV, and merchandise. Not just triathlon, but other races as well. The idea is to be wide open. We've set it up so we have departments for logistics, departments for TV. We have a really good, very experienced crew who are passionate for sport and for their country. It's also very important for us to treat the age groupers same as the pros.  To show their value and importance to us. The pros give us the image, but the age group athletes give us the foundation so it is our mission to treat them well.