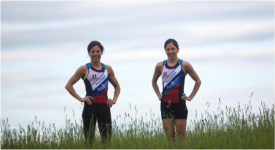 Professional Triathletes and Twin Sisters, Laurel and Rebeccah Wassner renew with the XRCEL® team
Charleston, SC (January 25, 2016) – New World Consumer Products, LLC, a division of New World Pharmaceuticals, would like to announce its renewed partnership with two top athletes, Laurel and Rebeccah Wassner. Laurel and Rebeccah will continue to be fueled by XRCEL Athlete Fuel, New World Consumer Product's patented, sustained release glucose supplement. For New World Consumer Products, renewing the sponsorship of Laurel and Rebeccah is an honor and an important step in the mission to educate and fuel elite athletes.
Laurel and Rebeccah Wassner are professional triathletes living in New York City.  Rebeccah (Bec) is a three-time winner of the New York City Triathlon. Laurel is the first cancer-survivor-turned-professional triathlete and the first cancer survivor to win an Iron distance race.
"XRCEL has become a crucial part of my training regime.  I have had time to integrate it into my nutrition strategy in training and am looking forward to seeing how much it will help me in races in 2016. On another note, I introduced it to my training partner and she loves it!  It really works!" said Laurel Wassner
The twins race to win championships, but also to raise awareness for the fight against cancer, particularly among young adults. The Wassner twins took different paths to being exceptional. In 1998, about a year after her college graduation, Laurel was diagnosed with Hodgkin's lymphoma. She spent the next few years battling fatigue and nausea while recovering her strength and rebuilding her life. Meanwhile, Rebeccah morphed into a professional athlete, competing first in marathons, while still working as a CPA, before turning to triathlons in 2004.
In 2006, watching her sister race against the world's top-ranked athletes at the ITU Elite World Championships, Laurel vowed to one day join her sister on the podium. With the help and support of friends and family, this dream became a reality when Laurel turned pro in 2008…and started chipping away at Bec's lead. Since then the sisters have teamed up to launch athletefood.com, one of the most widely read triathlete blogs online.
"Together Laurel and Bec have beat cancer, raced triathlons professionally all around the world, and advised athletes on nutrition through some of the most-read triathlon magazines on the stands today. After all they have put their bodies through in training and racing, we know they value that XRCEL is scientifically formulated to work with your body, releasing energy generating glucose when your body needs it.", said Laura DeMeo, Business Development Manager – Endurance Sports for Team XRCEL.
"The Wassner twins story is pretty amazing and was a major factor in our decision to their being included on the XRCEL team" said Fred Sexton, President and Founder of New World Consumer Products.
###
About XRCEL® Athlete Fuel
XRCEL Athlete Fuel is a revolutionary extended release carbohydrate supplement formulated with patented pH and temperature responsive micro-gel technology developed by New World Pharmaceuticals, LLC.  XRCEL is a caffeine and banned substance free supplement designed to provide athletes with extended release muscle and brain fuel so that they may get the most out of their training and competitions.
New World Pharmaceuticals is based in Charleston, South Carolina. For more information, please visit http://www.NewWorldPharma.com.
For More Information 
Media Inquiries:
Lisa Sexton
843.737.6192 Ext 104