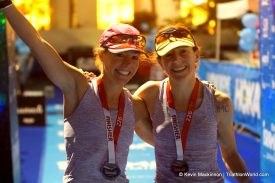 Professional Triathletes and Twin Sisters, Laurel and Rebeccah Wassner make it four years in a row with XRCEL Athlete Fuel to increase their competitive advantage
Charleston, SC (March 25, 2019) – New World Consumer Products, LLC, a division of New World Pharmaceuticals, re-signed triathlon pros Laurel and Rebeccah Wassner for the 2019 race season. The dual action, immediate and extended release fuel provided by XRCEL has been providing this dynamic duo competitive advantage for the past four years, and they intend to leverage it fully as they seek more podium spots in 2019.
"I am very happy to continue my partnership with XRCEL for a 4th straight year.  XRCEL has gotten me through countless hours of training and helped me to three iron-distance victories," said Laurel Wassner.  "I don't do a training session without at least one bottle on hand.  It keeps me fueled and focused and able to get the job done."
Twin sister Rebeccah said, "XRCEL is the only fueling product that keeps my energy level sustained through training sessions and races. Before I used XRCEL I would always feel drained at the end of my workouts, but now with XRCEL I feel energized and ready to move on to the next activity, whether it's a workout or chasing after my 1 year old."
 "We are thrilled to continue our partnership with Laurel and Rebeccah Wassner for the fourth straight year," said Laura DeMeo XRCEL's Manager for Endurance Sports.  "They are both very talented and focused athletes who are unstoppable in both their athletic career, food business, and travel adventures. Laurel is a three-time Iron distance champion and a cancer survivor who continues to inspire everyone around her both athletically and personally. Rebeccah is a stellar athlete who is on the comeback trail after having her third child. We're proud to be a part of Laurel and Rebeccah's athletic journeys and are thrilled to fuel their victories and accomplishments. We can't wait to see what 2019 brings for the Wassner Twins."
About XRCEL® Athlete Fuel
XRCEL Athlete Fuel is a revolutionary extended release carbohydrate supplement formulated with patented pH and temperature responsive micro-gel technology developed by New World Pharmaceuticals, LLC.  XRCEL is a caffeine and banned substance free supplement designed to provide athletes with extended release muscle and brain fuel so that they may get the most out of their training and competitions. XRCEL responds to each individual athlete's body to release fuel when and where it is needed. 
 About New World Consumer Products, LLC
New World Consumer Products is bringing the science of human nutrition and carbohydrate metabolism to high performance athletes with an emerging portfolio of patented products and technologies. Our flagship product, XRCEL ®, is a scientifically advanced sports performance fuel based on patented formulation technology developed by New World Pharmaceuticals, LLC. 
With strong investment in the science of performance-based nutrition, guided by a leadership team of executives and university scientists with extensive operating and board-level experience in the pharmaceutical and consumer goods industries, New World Consumer Products will continue to develop breakthrough products that improve performance and endurance for work, play and sport.
The company's corporate headquarters are located in historic Charleston, South Carolina. To learn more, please visit http://www.NewWorldConsumerProducts.com. 
For More Information 
Media Inquiries:
Lisa Sexton
843.737.6192 Ext 104
Lisa@XRCEL.com