Portuguese riders victorious at GFNY Portugal
September 13, 2018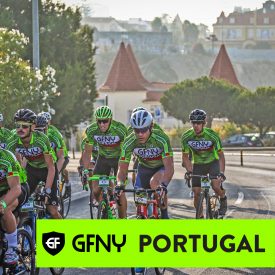 Riders from 38 countries take part in the inaugural race
(NEW YORK CITY, September 13, 2018) – Cascais, Portugal hosted the first ever GFNY Portugal on Sunday September 9th. GFNY Portugal is part of the largest Cycling Marathon Series in the world where amateur riders get to Be a Pro for a Day.
Supported by title sponsor Mercedes-Benz Vans Portugal, Cascais City Hall and various municipalities, the most beautiful landscapes of Portugal set the stage for the inaugural GFNY Portugal.  Starting and finishing from the beautiful Marina in the center of Cascais, riders were taken on a journey through vineyards and coastal villages alongside the Atlantic Ocean. At the finishline, athletes were treated to a traditional Portuguese BBQ celebration.
The challenging course on historical ground with 2469 meters of climbing over the competitive 162 km distance saw a double Portuguese podium in the men's and women's competition. 
In the men's race there was a spectacular sprint finish with Vitor Lourenco, 4:21:50 (POR) edging out GFNY NYC runner-up Ricardo Pichetta, 4:21:50 (ITA) and Davide Machado, 4:21:51 (POR). Pichetta had been on a long solo breakaway but was caught with 2k to go. Less than one second separated the podium making it one of the most exciting finishes GFNY has seen. 
In the women's race Catarina Simões (POR) rode away with the title in a time of 5:09:52. Lidia Fluhme (USA) edged out Aleksandra Szydelko (POL) for second place in 5:44:39. Winners were awarded a hand painted dish from a century old traditional pottery.
Next up is the inaugural GFNY Panama on October 21st.
About GFNY
GFNY is the global cycling marathon brand with events held in NYC, Bali-Indonesia, Brazil, Chile, Colombia, Costa Rica, Germany, República Dominicana, Indonesia, Italy, Jerusalem-Israel, Cozumel-Mexico, Monterrey-Mexico, Panama, Philippines, Poland, Portugal and Uruguay.
Riders get to BE A PRO FOR A DAY by competing against others, themselves and the clock in a personal endurance challenge.
At all GFNY events, riders have the chance to qualify for the elite racer corral at the GFNY World Championship in NYC by placing in the top 10% (20% at regional championships) of their age group.
Campagnolo GFNY World Championship NYC
The 9th annual Campagnolo GFNY World Championship New York will be held on May 19, 2019. The race features the world's most international peloton with riders from over 90 countries. Athletes take on a challenging 100-mile route from NYC to Bear Mountain to Fort Lee to compete against each other, the clock and themselves in a personal endurance challenge.
The official GFNY website is: www.gfny.com.
GFNY World 2018 calendar
21 October GFNY PANAMA
11 November GFNY COZUMEL-MEXICO 
25 November GFNY CHILE
GFNY World 2019 calendar
27 January GFNY PHILIPPINES
25 February GFNY BALI
17 March GFNY MONTERREY
17 March GFNY URUGUAY
24 March GFNY LATIN AMERICA CHAMPIONSHIP COLOMBIA
7 April GFNY REPUBLICA DOMINICANA
3 May GFNY MIDDLE EAST – AFRICA CHAMPIONSHIP JERUSALEM
19 May GFNY WORLD CHAMPIONSHIP NYC
2 June GFNY POLSKA
7 July GFNY COSTA RICA
4 August GFNY BRASIL
25 August GFNY DEUTSCHLAND 
25 August GFNY INDONESIA
8 September GFNY EUROPE CHAMPIONSHIP PORTUGAL
Further Material for Media Use
GFNY World calendar graphic: here
Previous GFNY press releases: here
GFNY Portugal video: here
GFNY Portugal results: here
GFNY Portugal photos (credit SPORTOGRAF): here
Media Contact
Gran Fondo New York Inc.
Uli Fluhme
Phone: +1.212.933.4033
Email address: uli@gfny.com