PLAYTRI opens store in Middleton, WI
March 25, 2019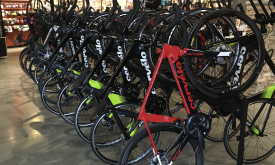 (Dallas, Texas, March 25, 2019) – Playtri opens store in Middleton, Wisconsin.  The 5,000 SqFt location will carry an expansive inventory with over 200 bikes from Cervelo, BMC, Pinarello, Argon18, Quintana Roo and more, as well as quality swim, run and triathlon brands/products.  This is another step forward in Playtri's expansion to 50 stores in 50 states.
Playtri is redefining the retail model in the endurance sports space by emphasizing on inventory selection, group training and e-commerce.  Playtri's dedication to healthy lifestyle through swim/bike/run, along with their knowledge and customer service is providing a successful path for brick and mortar stores in an ever-changing retail dynamic.
About PLAYTRI
PLAYTRI was founded as a triathlon coaching company in 2000 by Ahmed Zaher with his wife Staci Brode joining him in 2004. Zaher and Brode, both avid athletes, saw the stores as great places for athletes of all levels to gather in the community. Over time they worked to perfect the model enabling them to help more people reach their health and fitness goals. Zaher brings a wealth of athletic training to the business as a former member of the Egyptian Olympic swim team and 8-time Hawaii IRONMAN® Finisher. Brode is an Ironman triathlete who has lead the marketing and event production side of the business for 14 years. Rounding out the leadership team as the CEO of PLAYTRI Franchising is Stephan Brown, an experienced senior executive in the consumer products industry: Humminbird Marine Electronics, the Experimental Aircraft Association and most recently as the 10-year CEO of the Commemorative Air Force, Inc. Brown has competed as an age group triathlete for 32 years and owns the PLAYTRI Colleyville franchise location.
The company's aim is to bring PLAYTRI retail locations to all 50 states through franchising to actively expand the sport through training and equipping athletes to reach their fitness goals in the most well-rounded athletic endeavor ever conceived. The PLAYTRI Franchise Model offers an exciting blend of entrepreneurship, community advocacy, and profitable business model for franchisees to be successful in their respective markets.
##
For more information about PLAYTRI, please contact Stephan Brown at (850) 978-2736 or PLAYTRI.COM/OWNASTORE
FOLLOW PLAYTRI ON ALL SOCIAL CHANNELS @PLAYTRI