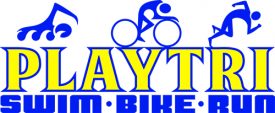 (Dallas, Texas, May 6 2019) –  IRONMAN 70.3 LUBBOCK, announced today a multi-year partnership that expands the relationship with endurance sport retailer, PLAYTRI, as the Official Triathlon Store of the IRONMAN 70.3 LUBBOCK.  The partnership between IRONMAN 70.3 LUBBOCK and PLAYTRI will bring added focus on athletes' needs on their IRONMAN 70.3 LUBBOCK journey.  
Race Director, Marti Greer, is excited about the partnership saying, "Mike Greer and I have been a part of the triathlon community in west Texas for 30 years! To celebrate our 30th Anniversary of IRONMAN 70.3 LUBBOCK, we are so thrilled to be moving IRONMAN 70.3 LUBBOCK into the city of Lubbock to highlight a solid race venue, the best volunteers in the whole series, the support of the City of Lubbock, and a thrilling finish at Texas Tech's Jones AT&T Stadium. Creating even more excitement is the addition of PLAYTRI, The Official IRONMAN Store, as our partner, and Official Triathlon Store of IRONMAN 70.3 LUBBOCK."
PLAYTRI's Staci Brode said "PLAYTRI is thrilled to be a part of the new and improved 2019 COREPOWER IRONMAN 70.3 LUBBOCK.  We have been a long time support of the storied event production team of Mike and Marti Greer so we are looking forward to start this new journey with them and their athletes."   
About PLAYTRI
PLAYTRI was founded as a triathlon coaching company in 2000 by Ahmed Zaher with his wife Staci Brode joining him in 2004. Zaher and Brode, both avid athletes, saw the stores as great places for athletes of all levels to gather in the community. Over time they worked to perfect the model enabling them to help more people reach their health and fitness goals. Zaher brings a wealth of athletic training to the business as a former member of the Egyptian Olympic swim team and 8-time Hawaii IRONMAN® Finisher. Brode is an IRONMAN® triathlete who has lead the marketing and event production side of the business for 14 years. Rounding out the leadership team as the CEO of PLAYTRI Franchising is Stephan Brown, an experienced senior executive in the consumer products industry: Humminbird Marine Electronics, the Experimental Aircraft Association and most recently as the 10-year CEO of the Commemorative Air Force, Inc. Brown has competed as an age group triathlete for 32 years and owns the PLAYTRI Colleyville franchise location.
The company's aim is to bring PLAYTRI retail locations to all 50 states through franchising to actively expand the sport through training and equipping athletes to reach their fitness goals in the most well-rounded athletic endeavor ever conceived. The PLAYTRI Franchise Model offers an exciting blend of entrepreneurship, community advocacy, and profitable business model for franchisees to be successful in their respective markets.
For more information about PLAYTRI, please contact Stephan Brown  at (850) 978-2736 or PLAYTRI.COM/OWNASTORE