Picky Bars Launches New Chai-Inspired Flavor With Maple, Spice & All Things Nice.
February 6, 2017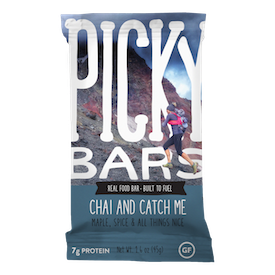 Using the Bend-hosted USATF Cross Country Nationals as a backdrop over the weekend, Picky Bars—the Oregon-based energy bar company founded by professional athletes Jesse Thomas, Lauren Fleshman, and Steph Bruce— debuted the newest addition to its real food family, a chai-inspired flavor called Chai And Catch Me.
Using a blend of hazelnut and almond butter in the base, sweet additions of maple and vanilla are balanced by chai-inspired spices that also boast a host of anti-inflammatory, antioxidant, and digestive properties (cloves, black pepper, nutmeg, cardamom, cinnamon, ginger). Similar to the eight existing flavors in the Picky Bars lineup, the ingredients and recipe for Chai And Catch Me were hand-selected and crafted by Fleshman. Coming off the success of last year's release of Moroccan Your World, Picky Bars predicts this unique flavor profile will be another hit.
A preliminary test batch was sent to Picky Club members in November for feedback and naming suggestions, which helped dial in the recipe and come up with the winning name.
The final product is now available online at pickybars.com and in select Picky Bars retail locations.
All Picky Bars are gluten free, dairy free, soy free, GMO free, and feature a 4:1 carbohydrate to protein ratio that is considered ideal for nutrient absorption. Although they were created with athletes in mind, Picky Bars are great for fueling any type of activity, workout, or day-to-day living. Wrappers feature fan photos using the hashtag #lifepoints on social media. Chai And Catch Me showcases Jess Slaughter (@speedymama) on North Sister, one of Central Oregon's prestigious Cascade Range mountains.
To learn more about Picky Bars, visit pickybars.com and follow on Facebook, Twitter and Instagram.
About Picky Bars
Picky Bars creates real food products to "Fuel Great Experiences." Founded in 2010 in the home kitchen of husband (Jesse Thomas) and wife (Lauren Fleshman) with friend (Steph Bruce)—all professional endurance athletes—they set out to create a real food bar that was built for performance. The 100 percent athlete-owned business is based in the outdoor mecca of Bend, Oregon. Through wholesome products, great services, and some quirky humor, Picky Bars strives to support and inspire athletes of all levels to reach for their goals and live life to the fullest. Learn more at pickybars.com or @pickybars on social media.
# # #