Picky Bars Announces Lifepoints Adventure Grants
March 10, 2017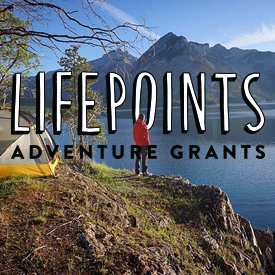 Energy bar company to award grants to see people to achieve their ultimate adventure
BEND, Oregon. (March 13, 2017) – Staying true to its mission to "Fuel Great Experiences," Picky Bars—the Oregon-based energy bar company founded by professional athletes Jesse Thomas, Lauren Fleshman, and Steph Bruce—has opened a second round of Lifepoints Adventure Grants to help get people's ultimate adventures up and running.
Inspired by the awe-inspiring #lifepoints shots submitted by Picky Bars fans, the Lifepoints Adventure Grants were created to break down the barriers holding people back from making their ultimate dream adventures a reality. Whether it be motivation, fear, gear, or funds, a big trip they've been saving up for or a spontaneous microadventure, Picky Bars wants to help those in need get their next trip off the ground.
Last year's Lifepoints Adventure Grant funded trips included a mother/daughter culinary tour of San Francisco, a community paddle of the Kaw River, and an excursion around Iceland's Ring Road in a camper van.
A total of three Lifepoints Adventure Grants, each worth $1,000, are available. Categories this year focus on the connections that come from exploration and experience: Family & Friends, Community Spirit, and Soloist. Whether it's taking the kids to the Grand Canyon, volunteering for an overseas home build project, or fulfilling the dream of a multi-day backpacking trip, this is the kick in the pants (/pocketbook) to finally make it happen.
Adventurers interested can apply online at pickybars.com/adventuregrants. Applications are being accepted through Sunday, March 26, 2017, at 11:59 pm PDT.
To learn more about Picky Bars, visit pickybars.com and follow on Facebook, Twitter and Instagram.
About Picky Bars
Picky Bars creates real food products to "Fuel Great Experiences." Founded in 2010 in the home kitchen of husband (Jesse Thomas) and wife (Lauren Fleshman) with friend (Steph Bruce)—all professional endurance athletes—they set out to create a real food bar that was built for performance. The 100 percent athlete-owned business is based in the outdoor mecca of Bend, Oregon. Through wholesome products, great service, and some quirky humor, Picky Bars strives to support and inspire athletes of all levels to reach for their goals and live life to the fullest. Learn more at pickybars.com or @pickybars on social media.
# # #