Picky Bars Adventure Grants Have a Mysterious New Look
May 1, 2018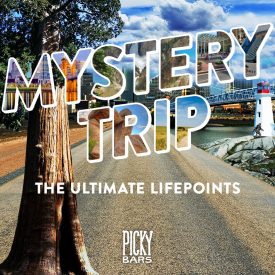 Three applicants will win a "Mystery Trip" weekend getaway to a mystery destination courtesy of Picky Bars.
BEND, Oregon. (May 1st, 2018) – Picky Bars—the Oregon-based real food company founded by professional athletes Jesse Thomas, Lauren Fleshman, and Steph Bruce—opened the application window for their third iteration of Lifepoints Adventure Grants. Rather than offering a cash stipend to help pay for trips the applicants' planned like previous years, this year's winners will be sent on a two-day, one-night weekend away to a mystery destination of Picky Bars' choosing.
"Our mission statement is to 'Fuel Great Experiences'," says Thomas, CEO. "Our Lifepoints Adventure Grants were born out of that idea, and this year I think we've really taken it to the next level."
Applicants must be willing to take an early Saturday morning flight, returning Sunday evening, to a destination of Picky Bars' choosing, on one of the three pre-selected weekends: June 23-24, July 21-22, Aug 4-5. Winners will be notified of their itinerary a week in advance, and are free to spend their time in their destination however they best see fit to soak up the experience. Flight, accommodations, some spending money, and Picky Bars products will be provided.
Fleshman added, "The idea of going to the airport, picking a destination, and just going is something I think everyone's dreamt about but probably wouldn't have the courage to do on their own. We want people to get out of their comfort zones, to really embody the true sense of adventure."
Applicants are asked to submit information about their recent travel experiences, their dream vacation, as well as a short 1-3 minute video explaining why they'd like to be chosen. They're also asked what activities they enjoy, which – along with geography and flight schedules – will be used in selecting their destination. Upon completion of the trip they're asked to submit a written recap including photos that will be shared on the Picky Bars blog.
Qualified applicants need to be US-based, 18 years or older, live within three hours of a major or regional airport, are available to travel on EITHER June 23-24, July 21-22, or Aug 4-5, and have an above average sense of adventure. Deadline to apply is May 11th, selected applicants will be contacted on May 18th.
Lifepoints Adventure Grants Mystery Trip application and information available at: pickybars.com/mysterytrip.
About Picky Bars
Picky Bars creates real food products to "Fuel Great Experiences." Founded in 2010 in the home kitchen of husband (Jesse Thomas) and wife (Lauren Fleshman) with friend (Steph Bruce)—all professional endurance athletes—they set out to create a real food bar that was built for performance. Still 100 percent athlete-owned, the business is based in Bend, Oregon. Through wholesome products, great service, and some quirky humor, Picky Bars strives to support and inspire athletes of all levels to reach for their goals and live life to the fullest.
# # #
For More information:
Nadine McCrindle / Marketing Director
[email protected] / +1 (541) 797 9797