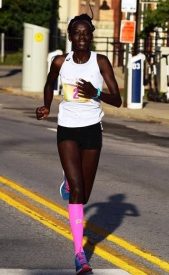 Country's Seventh Largest Women's Half Marathon Draws Thousands to Downtown Indianapolis
INDIANAPOLIS (OCT. 1, 2018) – Pasca Myers was the winner of the eighth annual Indy Women's Half Marathon, held on Saturday, Sept. 29 in downtown Indianapolis. Myers, who is originally from Kenya and currently lives in Fort Dodge, Iowa, won the race in a time of 1:16:03, the fastest time on this course in five years. Rachael Brewer of Champaign, Illinois placed second and Taryn Thor of Kokomo, Indiana, rounded out the top three race finishers on a day that was picture perfect from start to finish. The event's reputation as one of the fastest fields for women-only half marathons was again evident as seven states were represented in the top 10 finishers. 
In the 5K, Evansville's Lauren Minor won in a time of 17:46, followed by second place runner Ashley Schacht and third place finisher Jessie Hoffman. Both Schacht and Hoffman reside in Indianapolis. Cash prizes were awarded to the top 10 finishers in the half marathon and the top three finishers in the 5K.  More than 1,600 women ran the half marathon or 5K event. 
"This year's half marathon was the overall fastest Indy Women's Half we have ever seen in a number of years," said Race Director Todd Oliver. "We are extremely proud to have drawn such an incredible lineup of elite runners to Indianapolis, but we are also thrilled to know that so many of our runners set personal records on Saturday."
Full results of the 2018 race can be found at www.indywomenshalfmarathon.com/results-photos. Next Year's Indy Women's Half Marathon and 5K will take place on Sept. 28, 2019. 
About Indy Women's Half Marathon & 5K
The Indy Women's Half Marathon was introduced to the central Indiana running community in August 2010 as the first women's only half marathon in Indiana. In just a few years, it has become the largest women's running event in the state and the seventh largest women's half marathon in the country. For more information about the event visit www.indywomenshalfmarathon.com.
About CRRG Events
CRRG Events is a sponsorship and event management company with a history of delivering a memorable experience for runners. For more information, please contact Todd Oliver at todd@carmelmarathon.com. Find us at www.carmelroadracinggroup.com or on Facebook.com/CarmelRoadRacing and on Twitter @CRRGevents.