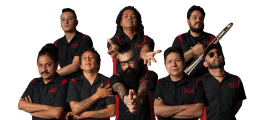 TAMPA, Fla. / OAXACA, México (January 30, 2019) – On Sunday, March 17, popular Mexican band Panteón Rococó will headline the Rock 'n' Roll® Oaxaca Half Marathon, a popular destination running event held at night. Continuing the tradition of bringing fun to the run with great music, the closing concert for all the athletes and their companions will be at the Polideportivo Venustiano Carranza beginning at 7:00 p.m.
Panteón Rococó is known for its unique musical style that blends rock, punk, salsa, mariachi, reggae, ska, and mestizo-music into a very energetic and exciting sound. Hailing from Mexico City, Panteón Rococó rose to popularity across Mexico with nine studio albums and contributions to multiple others. Over the past several years the band has expanded its reach with tours across Europe. In 2018, Panteón Rococó performed at the famous Mexican festival, Vive Latino, which resulted in a live album for the band's 20th anniversary.
"Panteón Rococó's sound brings joy and dance as an invitation to leave everything on the dance floor with a mixture of ska, rock and reggae," said Stacey Campbell, Director of Global Events for the Rock 'n' Roll Marathon Series®. "They will bring a lot of energy to the event and is sure to be a great way to close out the second edition of the Rock 'n' Roll Oaxaca Half Marathon."
The Rock 'n' Roll Oaxaca Half Marathon will start and finish at the Polideportivo CECUDE and will pass by the city's famous and historic sites including the Cathedral, Macedonio Alcalá Theater, Oaxaca center stores, Oaxaca City Street, Oaxaca walk way and Oaxaca Centro, with additional bands and DJs performing at music stations along the course.
Race weekend will begin with a free two-day Health & Fitness Expo, where runners can find the latest in running technologies, fitness apparel, health and nutrition information and interactive displays. The expo takes place at Oaxaca Cultural and Convention Center on Friday, March 15 from noon to 8 p.m. and Saturday, March 16 from 9 a.m. to 4 p.m.
The Rock 'n' Roll Oaxaca Half Marathon is owned and operated by Asdeporte, an independent licensee of the Rock 'n' Roll Marathon Series. Information on general registration into the 2019 Rock 'n' Roll Oaxaca Half Marathon can be accessed at www.runrocknroll.com/oaxaca. Athlete inquiries may be directed to oaxaca@runrocknroll.com.
For more information on the Rock 'n' Roll Marathon Series, please visit runrocknroll.com or follow @RunRocknRoll on Twitter. Media may contact press@runrocknroll.com
###
About Rock 'n' Roll Marathon Series
The Rock 'n' Roll Marathon Series® is the world's largest running series taking part in over 30 destination events around the world every year. Established in 1998, the Rock 'n' Roll Marathon Series simple idea of making running fun has transformed both the U.S. and global running landscape by infusing the course with live bands, cheer teams and entertaining water stations, creating a block-party atmosphere for participants and spectators alike. Focused on running, music and community, race weekend kicks off with a free Health & Fitness Expo showcasing the latest in running gear, sports apparel, health and nutritional information and much more. Events culminate with an entertaining finish-line festival featuring some of the biggest names in music, with past performances including Macklemore & Ryan Lewis, O.A.R. Aloe Blacc, Pitbull, Flo Rida, The Band Perry, Fitz and the Tantrums, the Goo Goo Dolls and Bret Michaels. Further information about the Rock 'n' Roll Marathon Series can be found online at www.RunRocknRoll.com and follow @RunRocknRoll on all social platforms.
About IRONMAN
As part of Wanda Sports Holdings, the IRONMAN Group operates a global portfolio of events that includes the IRONMAN® Triathlon Series, the IRONMAN® 70.3® Triathlon Series, 5150™ Triathlon Series, the Rock 'n' Roll Marathon Series®, Iron Girl®, IRONKIDS®, International Triathlon Union World Triathlon Series races, road cycling events including the UCI Velothon® Series, mountain bike races including the Absa Cape Epic®, premier marathons including the Standard Chartered Singapore Marathon, trail running like Ultra-Trail Australia™, and other multisport races. IRONMAN's events, together with all other Wanda Sports Holdings events, provide more than a million participants annually the benefits of endurance sports through the company's vast offerings. The iconic IRONMAN® Series of events is the largest participation sports platform in the world. Since the inception of the IRONMAN® brand in 1978, athletes have proven that ANYTHING IS POSSIBLE® by crossing finish lines at the world's most challenging endurance races. Beginning as a single race, IRONMAN has grown to become a global sensation with more than 230 events across 53 countries. For more information, visit www.ironman.com.
Event Specific Press contact:
Ma. Fernanda Reyes, mfreyes@asdeporte.com
Rock 'n' Roll Marathon Series