Panamanian, Mohammed Mendez, and Venezuelan, Marcia Barrios, take the wins at GFNY Panama
October 26, 2018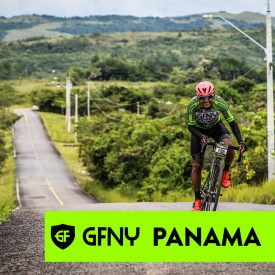 800 riders took on inaugural GFNY Panama on a route that highlighted the beauty of the Panamanian coastline and lush, tropical rainforest
NEW YORK CITY, Oct 26, 2018 – GFNY got a warm, enthusiastic and welcoming reception in Playa Blanca, Panama on Sunday, October 21. 800 riders took part in the inaugural GFNY Panama, which is part of the GFNY Global Marathon Cycling Series.
Starting from the mega resort, Playa Blanca, located 2 hours west of Panama City, on Panama's Pacific Coast, GFNY Panama riders took on two course options of 170km and 90km.
High adrenaline and damp tropical conditions resulted in a large, tight peloton heading out onto a fully closed lane on the famous Pan-American Highway at the race start. Once the adrenaline of the start and fast highway conditions dissipated, the peloton started to splinter and riders headed into 20km of challenging climbs. The climbs took riders onto the most scenic parts of the course and passing through several small, colorful villages, with every local resident sitting at their front porch, cheering on the riders.
Local Panamanian rider Mohammed Mendez beat out the rest of the field to take the title in a time of 4:52:50. Carlos Ariel Saavedra Martinez was 4 minutes back in 4:56:35. Xavi Martinez rounded out the podium in 5:09:48.  
In the women's race it was a fierce fight for the finish with Venezuelan, Marcia Barrios, just edging out local, Viatnessa Marin, for the win in a time of 5:33:17. Tatiana Sánchez rounded out the top three in a time of 5:48:33.
"GFNY Panama provided a safe course, great experience and a fantastic day of cycling, where riders were challenged by conditions and rewarded with beautiful scenery along the route," said Lidia Fluhme, President and co-founder of GFNY. "We are excited for the future of GFNY Panama and are already looking forward to next year."
Next up is GFNY Cozumel-Mexico on November 11.
About GFNY
GFNY is the global cycling marathon brand with events held in NYC, Bali-Indonesia, Brazil, Chile, Colombia, Costa Rica, Germany, República Dominicana, Indonesia, Italy, Jerusalem-Israel, Cozumel-Mexico, Monterrey-Mexico, Panama, Philippines, Poland, Portugal and Uruguay.
Riders get to BE A PRO FOR A DAY by competing against others, themselves and the clock in a personal endurance challenge.
At all GFNY events, riders have the chance to qualify for the elite racer corral at the GFNY World Championship in NYC by placing in the top 10% (20% at regional championships) of their age group.
Campagnolo GFNY World Championship NYC
The 9th annual Campagnolo GFNY World Championship New York will be held on May 19, 2019. The race features the world's most international peloton with riders from over 90 countries. Athletes take on a challenging 100-mile route from NYC to Bear Mountain to Fort Lee to compete against each other, the clock and themselves in a personal endurance challenge.
The official GFNY website is: www.gfny.com.
GFNY World 2018 calendar
11 November GFNY COZUMEL-MEXICO 
25 November GFNY CHILE
GFNY World 2019 calendar
27 January GFNY PHILIPPINES
25 February GFNY BALI
17 March GFNY MONTERREY
17 March GFNY URUGUAY
24 March GFNY LATIN AMERICA CHAMPIONSHIP COLOMBIA
31 March GFNY ITALIA MONTEPULCIANO
7 April GFNY REPUBLICA DOMINICANA
3 May GFNY MIDDLE EAST – AFRICA CHAMPIONSHIP JERUSALEM
19 May GFNY WORLD CHAMPIONSHIP NYC
2 June GFNY POLSKA
7 July GFNY COSTA RICA
4 August GFNY BRASIL
18 August GFNY DEUTSCHLAND 
25 August GFNY INDONESIA
8 September GFNY EUROPE CHAMPIONSHIP PORTUGAL
20 October GFNY PANAMA
Further Material for Media Use
GFNY World calendar graphic: here
Previous GFNY press releases: here
GFNY Panama video: here
GFNY Panama photos: here
Media Contact
Gran Fondo New York Inc.
Uli Fluhme
Phone: +1.212.933.4033
Email address: uli@gfny.com