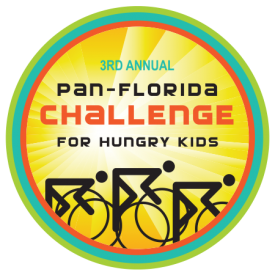 XRCEL sponsoring the Pan Florida Challenge to help bring awareness and needed funds to feed hungry children
Charleston, SC (February 1, 2016) – New World Consumer Products and XRCEL Athlete Fuel announce sponsorship of the 3rd Annual Pan Florida Challenge (PFC), a 160-mile bike ride event crossing Florida from Naples to Palm Beach, March 12th & 13th, 2016, to fund meals for the local children in South Florida who do not know where their next meal is coming from. The cyclists in the PFC will have the opportunity to be fueled by cutting edge XRCEL Athlete Fuel during the 160 mile ride. This year's event is a 1 million meals challenge to feed thousands of hungry kids.
XRCEL Athlete Fuel has joined forces with PFC for the 3rd Annual Pan Florida Challenge as a Gold Level Sponsor, supplying all PFC riders with XRCEL Athlete Fuel for use in pre-event training rides as well as on course nutrition throughout the two-day ride.
"We are excited to partner with the 3rd Annual Pan Florida Challenge, an extraordinary non-profit organization devoted to delivering meals to hungry kids in South Florida and in Haiti so these children can continue to nourish their bodies and minds in order to perform better academically, physically, socially and in life. Community outreach has long been a hallmark of endurance events and XRCEL is proud to be associated with such a well respected organization as Pan Florida Challenge", said Laura DeMeo, Business Development Manager – Endurance Sports for Team XRCEL.
"Just as Pan-Florida Challenge delivers nutrition to kids, XRCEL delivers immediate and sustained nutrition to our PFC riders and other dedicated endurance cyclists. The PFC is a fully supported ride, including providing our dedicated riders with the energy they need to complete the grueling trip. We are delighted to partner with XRCEL to ensure our athletes are properly fueled up with a premium, patented athlete supplement with extended release carbohydrate nutrition that is so critical to maintain their performance as they ride their bikes across the state of Florida, and to stay mentally focused as they ride hard for the 160-mile PFC journey. Riders Wanted! There is still room to sign up, test your legs, and claim your bragging rights for life." said Maura Plante, Executive Director for Pan Florida Challenge.
About the Pan-Florida Challenge 
Pan-Florida Challenge (PFC) is a nonprofit corporation and the PFC has benefitted significantly from the generous support of sponsors across the Naples and Palm Beach business and rider communities, as well as from national corporations, coming together to feed hungry kids.
Naples, FL based Pan-Florida Challenge for Hungry Kids event is an annual, two day, 160 mile bike ride across Florida from Naples to Palm Beach, held in March. Through fundraising and partnerships, PFC provides meals to hungry children who do not know where their next meal is coming from.
The 3rd annual Pan-Florida Challenge event takes place March 12th & 13th. Join us to raise 1 million meals for hungry kids this year. Register to ride or volunteer visit www.panfloridachallenge.org.
To donate: http://panfloridachallenge.racepartner.com/Fundraising.
PFC Ride Photos: Press >> Folder of 50 Photos on this link: www.facebook.com/PanFloridaChallenge
Contact: Maura Plante, 561-400-2712
Email: Maura@PanFloridaChallenge.org
* Source: http://map.feedingamerica.org/county/2013/child/florida/county/collier
About XRCEL® Athlete Fuel
XRCEL Athlete Fuel is a revolutionary extended release carbohydrate supplement formulated with patented pH and temperature responsive micro-gel technology developed by New World Pharmaceuticals, LLC.  XRCEL is a caffeine, banned substance, and stimulant free supplement designed to provide athletes with extended release muscle and brain fuel so that they may get the most out of their training and competitions.
 About New World Consumer Products, LLC
The company's corporate headquarters are located in historic Charleston, South Carolina. To learn more, please visit NewWorldConsumerProducts.com.
For More Information
Media Inquiries:
Lisa Sexton
843.737.6192 Ext 104
Lisa@XRCEL.com