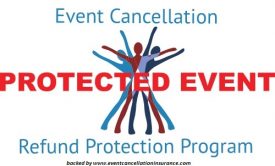 Nicholas Hill Group is a leading provider of Event Cancellation Insurance
(Colorado Springs, CO) – Nicholas Hill Group, Inc. (NHG) is pleased to share event cancellation coverage results from 2018 that total more than 15,000 participating events having received cancellation protection for perils that include adverse weather, natural disaster and terrorism.
As the exclusive event cancellation insurance provider for Running USA, USA Cycling and a growing list of registration company clients, including imATHLETE, Haku, Race Roster, Events.com and more, NHG has become one of the largest event cancellation insurance providers in the United States.
"We work hard every day to bring a level of innovation to the event insurance marketplace.  The continued growth of our event cancellation protection products is proof that events, both large and small, are finding value in the coverage that we are providing." said Nathan Nicholas, President of the Nicholas Hill Group, Inc. "We recognized many years ago that, due to the high cost of purchasing an insurance policy, only the largest and most financially prosperous events could afford event cancellation insurance. Therefore, through our network of A+ (Excellent) AM Best Rated Insurance Carriers we created an innovative approach to the affordability issue. Through these efforts and through our partnerships with innovative trade organizations and event registration platforms, we have successfully made event cancellation and refund protection available to the masses through a variety of customized options that events can choose from.  Today, events of all types and sizes have the option to customize broad insurance coverage to suit their specific needs, or to opt into a turn-key cancellation refund program offered by one of the registration companies listed above. Under our registration company refund protection programs, qualified events no longer need to write a check upfront for the full price of coverage, but rather include the minimal cost of protection in the registration fees that are collected, just like they do with many other event expenses."
Through membership in Running USA, events enjoy member exclusive premium discounts for comprehensive and customized event cancellation (and event liability) insurance. "Partnering with Nicholas Hill has benefited so many of our members, regardless of the size of their event. The process is turnkey and very simple," said Rich Harshbarger, CEO of Running USA.
"Refunds are on everyone's mind having witnessed recent cancellations and interruptions due to hurricanes and wildfires, unexpected thunderstorms, heavy rain or snow and even terrorism. With the escalating price of entry fees, we feel that the traditional practice of "No Refunds" has become unacceptable for participants who expect to either get what they paid for, or receive a refund of their registration fees," Nicholas added. "Thanks to innovative organizations and registration companies, such as Running USA, USA Cycling, imATHLETE, Haku, Race Roster, Events.com and others, race directors now have a choice – ask their chosen registration company to consider a refund guarantee, or switch to a company that already provides one."
About Nicholas Hill Group, Inc. (NHG)
Nicholas Hill Group, Inc. (NHG) is a Colorado based insurance organization providing niche insurance products and services to clients throughout the United States. NHG specializes in promoting active lifestyles, safe athletic events and responsible outdoor recreation by helping clients to address their exposure through the design and ongoing management of innovative insurance products. Clients include national governing bodies (NGBs), associations, membership organizations, affinity groups, 3rd party registration companies, ski resorts and a variety of sports related businesses.  We also proudly represent individuals who are pursuing their passion through an active, healthy lifestyle.
About Running USA
Running USA is a tax-exempt, not-for-profit organization devoted to improving the status and experience of distance running and racing in the United States through collective marketing and promotions, information and communications within the industry and to the national media, services to events and industry members, and the development of American world class stars. It seeks the advancement of the sport and the provision of value to each of its members' events and businesses.
Nicholas Hill Group, Inc.
1765 South 8th Street, suite 800
Colorado Springs, CO 80905
Phone: 1-888-224-9054
www.EventRefund.com
www.EventCancellationInsurance.com
www.NicholasHillGroup.com