Outerbike Cancels Remaining 2020 Events; Announces New Website Page Connecting Riders with Exhibiting Bike Brands
July 20, 2020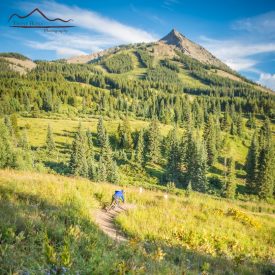 New website feature aims to support and make folks feel welcome amidst the growing influx of new riders into the bike community.
MOAB, Utah (July 20, 2020) – Outerbike, the premier three-day experiential consumer event dedicated to helping mountain bikers find their perfect bike, announces an exciting new feature to the Outerbike website launching later this year, that will still help riders find their perfect bike, even when they can't do it  in person. Outerbike's new website feature will utilize an interactive quiz to guide consumers towards the bike that's right for them. This coincides with the cancellation of the remaining three Outerbike events that were on the 2020 event calendar: South Lake Tahoe, Moab and Bentonville.
"The sad news is of course we're canceling the rest of this year's events, but the great news is the bike industry is booming! Pretty much every brand I speak with, sales are through the roof. This means more people are joining the cycling community and that's more people who can join us at future Outerbikes. And not just Outerbike's, but all types of cycling events, and that's a winning combination we can be excited about for 2021 and beyond", said Mark Sevenoff, co-founder of Outerbike. "Of course, COVID certainly played a part in our choice to cancel the rest of our 2020 events, however, we're excited about the opportunity to use this time to make some important changes to the Outerbike website—stand by for more news on this, and in the meantime if you need a break, small group Western Spirit bike trips are departing every week."
Cycling sales have seen a major boost during the pandemic as people look for safe ways to get outdoors and exercise, and the Outerbike team is dedicated to supporting this increase in new cyclists by welcoming them into the sport in a neutral, helpful and purely educational way. With the working title 'Your Friend in the Bike Business,' this new section of the Outerbike website will start with questions for the rider about their needs, hopes, and riding plans and will lead them to a group of bikes from Outerbike exhibitors created to meet those needs. Each bike model produced by a brand was designed with a certain rider in mind and this online tool will bridge the gap. The goal is to make sure all of these new cyclists feel welcome and provide them with a great tool for finding their next bike.
'Your Friend in the Bike Business' will connect consumers of all ability and experience levels to bikes brands like Yeti, Ibis, Canyon, Specialized, Pivot, Rocky Mountain, Alchemy, Fezzari, Esker and more.
Outerbike looks forward to sharing more details regarding 'Your Friend in the Bike Business' soon. For any 2020 attendees who want to defer their registration to a 2021 event, Outerbike is doubling their investment and offering a "bring a friend for free" option. The Outerbike 2021 dates will be announced in the coming months. For more information, please visit www.outerbike.com.
About Outerbike
Outerbike is the premier provider of multi-day, off-road experiential consumer cycling events from the owners of Western Spirit Cycling. Celebrating its tenth year in 2020, Outerbike is a unique collaboration between bike and outdoor brands, bike-focused cities and towns, and cycling enthusiasts from around the world to create 'see, try and buy' opportunities for the growing community of enthusiast cyclists looking to find their perfect bike and gear. Outerbike's platform offers both a community hub and resources – both online and at physical event locations – that enable specialty brands to support the consumer decision journey from research to purchase through authentic, shareable experiences in iconic outdoor locations.
About Western Spirit
Founded in 1990, Western Spirit Cycling is an adventure bike touring company headquartered in Moab, Utah, which runs multi-day bicycle tours and outdoor events on public lands throughout the country. Western Spirit works closely with Public Lands Solutions, a non-profit that supports effective and sustainable public land solutions through outreach and planning.