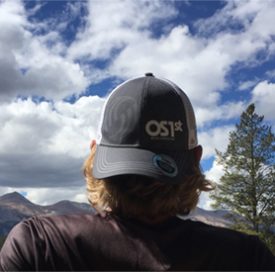 Hickory, NC – December 5, 2016.  OS1st®, known for its unique Base Layer Bracing and Compression Zone TechnologyTM, announces their new Athlete and Ambassador Team program.
"We are very excited to announce the launch of the OS1st® Athlete and Ambassador Team", says Debbie Shannon, VP of Marketing.  "In partnering with some of the most influential runners in the sport, we feel that this exposure will help educate other runners on our unique brand of medical grade compression products."
OS1st® is committed to providing the best compression bracing products the market has to offer.  The new OS1st® Athlete and Ambassador Team is just another way for OS1st to listen and continue to improve and this great group of athletes are now using OS1st® products to compete and recover.
"I was honored to be asked by OS1st® senior management, Josh Higgins and Debbie Shannon, to be the team captain and establish a group of sponsored athletes and ambassadors", says James Russell Gill III, professional runner and CEO of Bad to the Bone Sports.  "OS1st® products are truly unique, as their Brace Layer System and Compression Zone Technology provides medical grade athletic support to help promote excellent circulation.  With my own science background, I can appreciate the investment OS1st® has made to create a compression product that truly makes a difference in both performance and athlete recovery.   I reached out to some of the most influential runners in the sport, and I am thrilled with the team we have pulled together. Along with myself, the team will be comprised of sponsored athletes Ian Sharman, Dr. Francesca Conte, Chris DeNucci and ambassadors Catra Corbett, Molly Mikita and Ken Michal."
Avoiding injury and recovery are two of the most vital elements to successful training.  OS1st® helps athletes to stay at their best, avoid injury and symptom onset, and have added support during training and activity.
OS1st® products are FDA registered medical devices and held to rigorous standards, maintaining a technology and quality runners and athletes can depend on.
For more information on OS1st® or on the OS1st® Athlete and Ambassador Team, please contact Debbie Shannon at (844) 413-5457 or dshannon@ingsource.com.
About OS1st®
An Evolution in Bracing
OS1st has revolutionized the light brace category with performance bracing sleeves for added flexibility, comfort and support that can be worn during any activity or sport for any athlete and any sport. We are the proud makers of the #1 selling light brace in the US Run Specialty Retail market.  OS1st® Performance Bracing Sleeves combine medical grade support with patented Compression Zone Technology® and K-Zone Technology to provide pain relief, injury prevention and healthy recovery.  Soft, moisture-wicking fabric keeps joints cool in the heat and warm in the cold for year-round support and performance.  OS1st Performance Bracing Sleeves improve circulation and muscle stability to improve sports performance and aid in sports injury recovery.