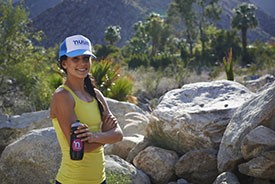 Nuun Announces that Olympian Kara Goucher Will Exclusively Hydrate with Their Electrolyte Sports Drink Tabs
April 17, 2014, Seattle, Washington–Nuun, the top-selling electrolyte sports drink in run, bike, and outdoor specialty stores, is thrilled to welcome Olympian Kara Goucher to its portfolio of elite athletes. Nuun and Goucher's multi-year marketing partnership is effective immediately. To welcome Kara to the team and to kick off the partnership, Nuun will be doing an exclusive signing with her in the Nuun Booth (Booth #2019) this Sunday, April 20th at 11:00am-12:00pm at the Boston Marathon expo located in the John B. Hynes Convention Center.
Goucher is one of the most accomplished female distance runners alongside being a dedicated wife and mother. Goucher made her marathon debut in New York City in 2008 and placed third. In 2011, she was fifth at Boston with a PR of 2:24:52. She competed in both the 2008 Olympics in Beijing and the 2012 London Olympics where she placed 11th in the Olympic Marathon. In January of this year, Goucher moved back to Boulder, Colorado to train with her college coach, Mark Wetmore and C.U. assistant coach Heather Burroughs. On March 20, 2014, Kara signed with women's running apparel company Oiselle as a sponsored athlete, valued teammate and business partner.
"We are Kara's biggest fans and are proud to support her as she chases top results in the next few years," said Kevin Rutherford, President and CEO of Nuun and Company. "Her combined commitment to athletic excellence and motherhood aligns with our company goal to develop proper hydration both for elite athletes racing at top levels as well as for families seeking no-sugar alternatives to juices, sodas, and sports drinks."
Post Boston 2014, in addition to being a brand spokesperson, look for Goucher's image in Nuun's advertising and in-store merchandising. She will use Nuun-branded water bottles at all elite hydration and fueling stations along race courses. At major running event expos in which she participates, she will spend time at Nuun's booth interacting with customers and fans. Goucher will co-create website and blog content for Nuun.com, including such topics as balancing parenting and training, hydration and fueling, and race planning/strategies. Active on Facebook and Twitter, she will host Q&A chats where followers can get her feedback in real time.
"Staying hydrated during a hard workout or race is important. But just as important is showing up hydrated and properly recovering afterwards," said Goucher. "That's why I love Nuun; for its versatile use before, during, and after activity. Better yet, I can then turn around and serve it safely to my child instead of some sugary soda or juice drink. I am ecstatic about this partnership and the opportunity to evangelize the brand."
In a unique move, the partnership will go beyond the traditional elite athlete partnership model. Goucher will also be a Nuun stakeholder and collaborator on product development.After Boston, Goucher plans to come back into running and racing with summer road races and track meets along with a fall marathon while gearing up to make the US Olympic team in 2016.
Nuun has established itself as the premier sports hydration drink of choice for endurance athletes in the running industry. Nuun continues to revolutionize the sports drink market by offering simple and self-dissolving electrolyte enhanced drink tabs without sugar. Ongoing research, testing, and consultation with elite athletes, coaches, and customers is integral to the brand's innovative approach.
Within the last year alone, Nuun introduced Nuun Energy designed to redefine the energy drink market with a clean, no-sugar alternative enhanced with five B vitamins and 40mg of caffeine. Just in time for the spring and summer seasons, and based on popular consumer demand, Nuun re-released the very popular flavor Watermelon.
For more information on Nuun and its full range of products, including updates on its growing list of elite athletes and teams, please visit www.nuun.com, friend them on facebook.com/nuunhydration or follow them on Twitter @nuunhydration.
About Kara Goucher Kara Goucher is a professional runner for Oiselle, inspirational mentor, proud mother and loving wife. She graduated from the University of Colorado with three Division I NCAA championships in cross-country, the 3000m and 5000m. She is a two-time Olympian, an American record holder, World Championships bronze medalist, and one of the most accomplished female distant runners of all time. In addition to her professional resume, Kara is an inspiration to people everywhere. In December of 2013, Kara launched her interactive website, karagoucher.com in which she can interact with her readers. She has created a social community where fans are encouraged to ask questions and reach out to Kara on a personal level.
About Nuun
Nuun and Company, based in Seattle, WA, is the pioneer of electrolyte enhanced drink tablets that turn water into an optimally balanced sports drink without the sugars and plastic waste of traditional sports drinks. Founded in 2014, Nuun is used by the world's best athletes and enthusiasts in running, cycling, triathlon, golf, outdoor and general fitness. Ten years later, Nuun Active Hydration remains the #1 selling sports drink product in bike, run, outdoor specialty, and outdoor chain stores. Nuun is sold in over 5,000 outlets in the US and available in over 30 countries. To learn more and find a store in your local area, visit www.nuun.com, friend them on www.facebook.com/nuunhydration or follow them on Twitter @nuunhydration 
For Media Inquiries
Shanna Burnette
ModCraft shanna@modcraftstudio.com
303-601-5177