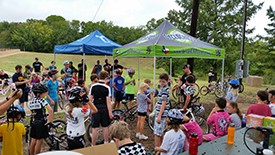 Volunteer Youth Cyclocross Program Teams up with Hydration Leader Together Inspiring and Educating the Next Generation of Cyclists
January 6, 2014 — Seattle, WA What if Cyclocross was a more common after school activity than sitting at home watching television or playing video games? Imagine a world where activity, access to bikes, and healthy competition were the norm as an alternative to the growing epidemic of inactivity, obesity and diabetes. This is the transformation Kevin Rutherford, CEO at Nuun, has seen happening through the vision and leadership of Rolando Roman, the founder of the Texas Cyclocross Project, a Youth and Junior Cyclocross Program with a mission to develop the next generation of cyclists with a focus on principles and values.
The Texas Cyclocross Project was created by Rolando Roman in 2013 as a vehicle to recruit and train youth and junior cyclists with the goal of participating in the 2015 Cyclocross National Championships in Austin, TX January 7 – 11, 2015. The program provides free clinics and training sessions to youth in the Austin area. In its third year, the Texas Cyclocross Project offers 7 classes per week across 190 kids between the ages of 3 and 14. Roman with his team of ambassador and parent volunteers, race promoters', cycling advocates and sponsors provide the support for the program.
"What Rolando has built with the Texas Cyclocross Program defines Nuun's mission of inspiring individuals to achieve their next personal best," said Nuun President and CEO Kevin Rutherford. "Not only are he and his team creating an environment for youth to pursue their dreams through Cyclocross, but they are also allowing kids who would have never stepped a foot over a bicycle to live a lifestyle of health and exercise because of their involvement."
Nuun's involvement with the Texas Cyclocross Project includes providing product, education on proper hydration and hydration stations at practices and events. "A very important part of our mission is promoting a healthy environment for families," shared Rolando Roman Texas Cyclocross Project Founder. "Nuun is a critical part of this process providing an alternative to sugary sports drinks while also teaching the parents and kids on how to hydrate on and off the bike."
Nuun will be alongside the Texas Cyclocross Project during the Cyclocross National Championships. On Friday January 9th the program is hosting a Youth/Junior Welcome Reception at Mellow Johnny's where Nuun will be served. And, the Texas Cyclocross Project will be set-up adjacent to Nuun at the expo area hydrating the racers throughout the week. 
About Nuun
Nuun and Company, based in Seattle, WA, is the pioneer of electrolyte enhanced drink tablets that turn water into an optimally balanced sports drink without the added sugars and plastic waste of traditional sports drinks. Founded in 2004, Nuun is used by the world's best athletes and enthusiasts in running, cycling, triathlon, golf, outdoor and general fitness. Ten years later, Nuun Active Hydration remains the #1 selling sports drink product in bike, run, outdoor specialty, and outdoor chain stores. Nuun is sold in over 5,000 outlets in the US and available in over 30 countries. To learn more and find a store in your local area, visit www.nuun.com, friend them on www.facebook.com/nuunhydration or follow them on Twitter @nuunhydration.  
About Texas Cyclocross Project 
Cyclocross Project 2015 was developed for youth and junior cyclist with the goal to participate in the 2015 Cyclocross Nationals, which will be hosted in Austin, Texas. By providing free clinics and training sessions to foster the next generation of cyclists we can help develop principles and values; good sportsmanship, attitude and teamwork among participants.
Whether the participant is a first time cyclist/racer, we will provide an opportunity to teach the skills to help to the next level and grow the sport in Texas. Those who have no ambitions of racing, but are looking for a fun social cycling group to be a part of are encouraged to join our growing cyclocross community, too! Our Team Ambassadors will teach participants everything they will need to know about cyclocross. The participant will learn how to register for races, what to expect at various race venues, racing skills and technique, equipment suggestions, and other training tips. Please visit www.cxproject2015.org.