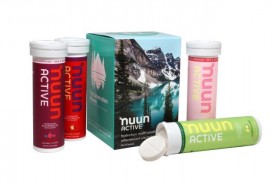 A Portion of Proceeds from the Co-Branded Product Are Being Donated to Protect and Restore North America's Wild Places
March 22, 2016 – Seattle, Washington – nuun®, the top-selling sports drink brand in outdoor, bike, and run specialty stores, announces their product collaboration with The Conservation Alliance, a group of outdoor industry companies that disburses its collective annual membership dues to grassroots environmental organizations in order to protect and restore North America's wild places. They have partnered to create a co-branded nuun Active Hydration® 4-pack with a portion of the proceeds benefitting The Conservation Alliance and allowing them to both expand their conservation efforts, while broadening their exposure in the outdoor consumer market. This "hydrate for a cause" initiative reinforces nuun's planet-first commitment to ensure our outdoor playground is around for generations to come.
The mission of The Conservation Alliance is to engage businesses to fund and partner with organizations to protect wild places for their habitat and recreation values. Founded in 1989 by outdoor industry leaders with a common goal of increasing outdoor industry support for conservation efforts, the Alliance now has more than 190 member companies and has contributed close to $165 million to grassroots conservation groups throughout North America.
"We are honored to be working with nuun on this co-branded 4-pack, an initiative that will raise funds and awareness for The Conservation Alliance," said John Sterling, Conservation Alliance Executive Director. "This partnership showcases nuun's commitment to protecting our wild places and keeping outdoor enthusiasts hydrated and ready to get outside and play."
nuun is committed to replenishing active people and the planet by always examining its practices and valuing a belief in living clean. By creating minimal waste, using energy efficiently, sourcing sustainable ingredients, supporting environmental education, and giving back, nuun strives to create positive change and a healthier world. Both nuun and The Conservation Alliance value connecting active enthusiasts with the conservation community coming together for a common purpose to create a more sustainable and cleaner planet.
"In every decision nuun makes we seek to create a positive impact on the earth and for everyone that inhabits it," shared Kevin Rutherford, nuun president and CEO. "Teaming with The Conservation Alliance is very meaningful in that we share the belief that we all have a responsibility to protect this beautiful planet we call home."
The nuun Conservation Alliance 4-packs each contain 40 servings of nuun's signature electrolyte tablets, including 1 tube each of nuun Active Hydration Lemon Lime, Strawberry Lemonade, Tri-berry, and Fruit Punch for a retail price of $24.00. A portion of proceeds from each co-branded 4-pack sold will be donated directly to The Conservation Alliance and they are available for purchase at all REI stores and  other outdoor retailers across the country. The beautifully designed packaging art represents the partnership through celebrating the natural playground both nuun and The Conservation Alliance seek to protect.
About nuun & company
nuun, based in Seattle, WA, is on a mission to inspire a healthier, happier, more active lifestyle so that everyone can achieve life's next personal best. As the pioneer of electrolyte enhanced drink tablets, nuun is passionate about and committed to replenishing active people and our planet by using clean ingredients and practices in the great tasting and industry leading sports drink. Founded in 2004, nuun was the first to separate electrolyte replacement from carbohydrates, and twelve years later nuun active hydration remains the #1 selling sport drink product in bike, run, outdoor specialty, and outdoor chain stores. To learn more, visit www.nuun.com or follow them on social media.
About The Conservation Alliance
The Conservation Alliance is a group of outdoor industry companies that disburses its collective annual membership dues to grassroots environmental organizations. The movement directs it's funding to community-based campaigns to protect threatened wild habitat and restore America's wild places, often in places where outdoor enthusiasts recreate. Membership into the Conservation Alliance is open to companies of all sizes representing all aspects of the outdoor industries. Individual contributions are also welcome to support funds that go directly to the most effective conservation projects in North America.