NordicTrack Introduces LiveCast™ Streamed Workouts with the Commercial S22i Studio Cycle
February 6, 2018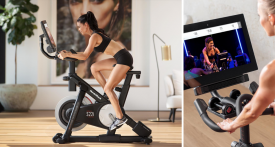 (Logan, Utah — February 6, 2018) — NordicTrack announces another connected fitness product, with the sleek, modern Commercial Studio Cycle Series, featuring high-energy LiveCast™ workouts, streamed directly to the cycle's 22-inch touchscreen. The Smart HD touchscreen displays studio workouts powered by award-winning iFit technology, allowing iFit personal trainers in the LiveCast workouts to remotely control the bike's incline, decline and resistance during the consumer's at-home workout. These features are completely unique to iFit®-enabled machines. Among the benefits of iFit trainer-controlled workouts on the NordicTrack cycle: keep motivation high, torch calories and ensure a better, more efficient workout. iFit also takes the guesswork out of fitness, delivering a personalized experience specific to what the user needs to accomplish their goals.
Streaming LiveCast™ workouts
A wide range of elite personal trainers lead the LiveCast™ studio sessions for workouts, ranging from 20 to 60 minutes. Each trainer brings his or her unique personal training style, providing several options—time trial to HIIT workouts—to meet the owner's personal preferences, styles and workout goals. Consumers on the NordicTrack Studio cycle are immersed in the workout experience by watching the studio class and listening to the high-energy class leader and music through the built-in speakers on their machine.
Plus, consumers' access expands past these iFit LiveCast™ studio workouts. Training sessions created with Google Maps™ Street View images offer full-body workouts that take users to stunning destinations around the world and provide a welcome bonus to keep exercise fresh and exciting. These features are completely unique to iFit®-enabled machines.
Additionally, the NordicTrack Commercial Studio Bikes allow users to track nutrition, activity and sleep with an iFit Coach membership. Customers will receive custom meal plans and personalized tips to help maintain a healthy lifestyle.
NordicTrack Studio Cycle Series
The Studio Cycles feature a dramatic incline to 20% and decline to -10% that provides a realistic cycling experience. Resistance ranges from a level of 1 to 24. Both are automatically adjusted by the trainer during the high-energy classes or to match the terrain of Street View workouts to target different muscle groups while building stamina. Many of the trainer-led classes incorporate the included pair of 3-pound dumbbells which nest conveniently on the bike console, making it simple to get a total-body workout. Crosstraining on and off the bike, using the dumbbells and bodyweight movements, are key to iFit's success and engaging to its consumers.
Quiet cycling and exceptional smoothness are the result of the inertia-enhanced flywheel with built-in SMR™ technology, Silent Magnetic Resistance.  Adding to the authentic biking experience is the onboard watts power readout, highly visible on the console dashboard, to measure the user's output.  The AutoBreeze™ fan, which increases air flow with workout intensity, keeps the user cool and simulates the experience of a cyclist on the open road.
NordicTrack Studio Cycles are fully adjustable for a comfortable, individual fit: the ergonomic padded seat adjusts both horizontally and vertically, and the handlebars also move vertically. These cycles are also compatible for consumers who want to swap in their own seat and pedals.
The NordicTrack Studio Cycle series has two options distinguished by the size of the touchscreen:
The S22i cycle has a 22-inch touchscreen with an MSRP of $2,295, which includes a 1-year iFit Coach membership, or a financed option for $89 per month that includes the cycle plus a 3-year iFit Coach subscription.
The S10i cycle has a 10-inch touchscreen with an MSRP of $1,995, which includes a 1-year iFit Coach membership, or a financed option for $78 per month that includes the cycle plus for a 3-year iFit Coach subscription.
Shipping for either cycle is currently offered free, a $250 value.
The NordicTrack Studio Cycle series is perfect for consumers who appreciate a sleek design with a compact footprint of only 55 by 22 inches. The series provides innovative and exciting features for the home fitness industry. TraQline, the most trusted source for market share in consumer electronics and appliances, ranks NordicTrack as the number one home fitness brand.
About NordicTrack
NordicTrack delivers a full spectrum of home fitness equipment, including its acclaimed line of treadmills and incline trainers. They incorporate the same flair for design and comfort in their ellipticals, the new FreeStride trainers, strength training machines, stationary bikes and steppers.
Its parent company, ICON Health & Fitness (based in beautiful Logan, Utah), is the foremost leader in the fitness industry. The complete line of products can be found at NordicTrack.com and in brick-and-mortar retailers around the globe, such as Elite Fitness in New Zealand, Workout Warehouse in Australia and Decathlon throughout Europe.
Contact:  Colleen Logan, VP Marketing, clogan@iconfitness.com
#     #     #