No Excuses For Sacrificing Aerodynamics for the Beginner Triathlete
November 11, 2016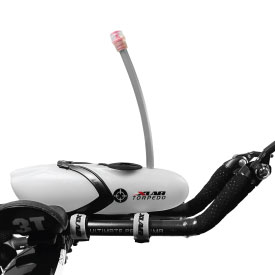 The perfect aerobar hydration system for the beginner triathlete is here. XLAB debuts an ideal hybrid between ease of use and industry leading aerodynamics into the all-new Torpedo System 50+.
The Torpedo System 50+ leverages the proven aerodynamics of the iconic Torpedo Bottle into an easy-to-use, beginner-friendly package. The competitive $54.95 US MSRP price point makes it the ideal option for triathletes just starting out in the sport.
Despite the extraordinary price point, the system is packed with top features. The 26oz (768mL) Torpedo System 50+ uses the high-performance drink valve of XLAB's higher end systems, allowing athletes to drink faster by keeping liquids near the top of the straw. The Slotted Refill Lid makes it easy to refill while out on the course – and is large enough in diameter to fit Aid Station bottles.
The new hydration system is both easy to clean and easy to install, integrating no-tool-required mounting to fit aerobars between 80mm and 130mm (center-to-center). As with all XLAB systems, the Torpedo System 50+ is uniquely designed to mount further back on the aerobars to help the rider maintain bike-handling skills even in crosswinds.
Tour the full features of the new Torpedo System 50+ at xlab-usa.com/torpedo-system-50plus.html
ABOUT XLAB:
A twenty-three year obsession with speed has launched XLAB into the lead as the premier manufacturer of aerodynamic hydration, nutrition and repair storage solutions. Our engineers passionately design, analyze and test systems for extremely light yet, extraordinarily reliable products that, propel athletic pursuit and have captured 30 World Championship titles. XLAB reigns as the most used hydration brand counted amongst Kona competitors for 4 years in a row. Unmatched in design, technology and style, we fuel our athletes with the innovations that stay ahead of the pack. Explore the leading innovations in aerodynamic accessories at xlab-usa.com