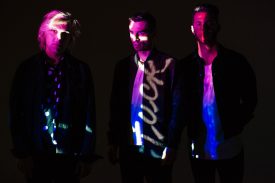 2nd annual event blends music and racing creating a day of fun for everyone.
Race Day Events and the Fitchburg Chamber Visitor & Business Bureauare proud to announce New Politics as it's headliner for the Fitchburg Festival of Speed. Over the last decade, the Danish Alternative rock trio, featuring David Boyd, (lead vocals, guitar), Søren Hansen, (bass guitar, guitar, vocals) and Louis Vecchio, (drums), have delivered a half dozen Modern Rock Chart Topping Hit Singles including the Top 10 singles, One Of Usand Harlem! 2019 is their 10th anniversary as a band and they are celebrating with new music! Their new single Comeback Kid was the featured Song Of The Month on all ESPN Platforms for the entire month of May. A new album announcement is expected this year!
Twin XL is set to perform at Fitchburg Festival of speed as well. The Los Angeles trio is the creative brainchild of songwriters and producers, Cameron Walker-Wright (vocals) and brothers Stephen Gomez (bass) and John Gomez (guitar). Walker-Wright is part of the synth-pop band Nekokat and the Gomez brothers rose to international fame in The Summer Set. Collectively, the three have written and produced for artists such as All Time Low, Lindsey Stirling, Life of Dillon, as well as having their music featured in commercials and trailers such as Disney's Christopher Robin and ABC's Lucifer.
The Fitchburg Festival of Speed is an all-day festival taking place Saturday, July 13, 2019 at the beautiful Agora complex in Fitchburg, Wisconsin. Whether you join as a spectator or participant, the Fitchburg Festival of Speed has activities for everyone, from a walk-run, to all-day cycling races, topped off by two musical acts The festivities kick off in the morning with the Fitchburg Family Pharmacy 25-mile bike ride and Donor Dash 5K at 7:30 and 8:00AM. There are plenty of activities for the kids, including a Kid's Zone and Kid's Fun Run in the afternoon.
For more information, please visit: http://www.fitchburgfestivalofspeed.com/