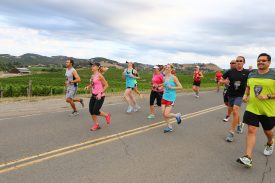 Sold-out Iconic Running Event To Open up Additional Entries for Napa and Sonoma Residents
Sonoma, CA (June 16, 2018) – Motiv Sports and Destination Races announced today that the Napa-to-Sonoma Wine Country Half Marathon is celebrating its 15th year in 2018 with a host of wine-themed special events on race weekend, July 13-15. This iconic race has been sold out since December but, Destination Races, the event producer, will open up to 100 additional half marathon entries to residents of Sonoma and Napa counties.  Local residents who were not able to sign up early can still join the festivities.  Additionally, Destination Races will be inducting its first two members into the newly-formed Napa to Sonoma Hall-of-Fame during the awards ceremony.
The event kicks off with its traditional Friday evening Welcome Reception at Cuvaison Estate Wines in southern Napa. Cuvaison's open tasting room and patio overlook the race start set amongst the vineyards and reservoir that serves the estate vineyards. On Saturday, the Health and Fitness Expo and packet pickup is held at the Oxbo Commons in Napa from 11:00am to 6:00pm. This year's new expo site is adjacent to Oxbo Market and Feast it Forward, who'll be hosting a launch event with wine tasting, food trucks, bands, special offers to race participants, and contest giveaways, including a trip to Bordeaux. The expo is open to the public. Culinary Institute of America at COPIA is the site of Saturday evening's race dinner. CIA chefs will prepare a healthy menu specifically for the runners. Guests are welcome at this special first time event at CIA.
On Sunday, Sonoma Plaza becomes the hub of activity as the lead runners cross the finish line in front of City Hall shortly after 8:00am. They are followed by nearly four thousand enthusiastic athletes from all over the states and many foreign countries. Historic Sonoma Plaza fills with exhibitor booths, Napa and Sonoma Valley wineries, food trucks, a Lagunitas Beer Garden, charity village, merchandise store and the new Rejuvenation Lounge. Grinstead Amphitheater in the plaza hosts the awards ceremony and live band starting at 9:30am. The post-race festival ends at noon but there is still an opportunity to visit wine country as many participating wineries and tasting rooms are offering specials for runners who show their finishers medal, race bib or registration confirmation. CIA at Copia hosts a 'Secret Wines of Napa Valley' educational tasting followed by reception with food pairing on Sunday from 3:00pm to 5:00pm. Tickets to events can be purchased on the event website, www.destinationraces.com/runN2S or at the Health and Fitness Expo, if any remain.
Residents of Sonoma and Napa counties are eligible to gain entry into the race by visiting a participating retailer and signing up for an entry code. Entry codes are limited to 15 per store and are offered on a first come basis. Each participant receives a custom designed race shirt, a wine bottle opener finishers medal, Napa to Sonoma logo wine glass with festival tasting pass, and bus transportation to the start.  The half marathon entry fee is $175. Sign up at one of the following running retailers Napa Running Company or Athletic Feat in Napa, Fleet Feet or Sports Basement in Santa Rosa, Healdsburg Running Company, and Parkpoint Health Club in Sonoma.  A maximum of 100 spots will be released, and six of the entries will randomly be selected for VIP status once they are all allocated.  Sign ups are available at the time of the store opening on Saturday, June 16th and will remain open until the entries are redeemed.
The Napa to Sonoma Wine Country Half Marathon benefits a number of locally based schools, charities and other non-profit organizations, including Hanna Boys Center, Finnish American Housing Association, Napa Valley Vine Trail Coalition, Rebuild North Bay, Sonoma Volunteer Fire Department, Sonoma Unified Schools and others. Crohn's & Colitis Foundation has raised nearly $25 million at the Napa-to-Sonoma event with its Team Challenge program since its partnership began in 2008.
For more information on the event go to https://www.motivrunning.com/napa-to-sonoma-wine-country-halfmarathon.  You can also follow on facebook.com at /NSwinehalf, on Twitter @winecountryhalf, and on Instagram @NSwinehalf.
About Motiv Sports
Motiv Sports is an active lifestyle and entertainment company focused on delivering authentic and immersive live and digital experiences. Founded in 2015, Motiv Sports is headquartered in Denver, CO, with offices across the country. With decades of experience in the sports and entertainment events industry, the company is continually refining what works while exploring unique partnerships and opportunities to further enhance the consumer experience. The Motiv Sports platform currently consists of 41 triathlon and running events and digital properties with plans to expand into several vertical industries in the outdoor lifestyle space. A belief in better is the root of all motivation. That's what Motiv Sports is all about. Learn more at www.motivrunning.com.
About Destination Races
Destination Races, based in Sonoma, California, is the pioneer producer of the Wine Country Half Marathon Series. Founded in 2004, the Wine Country Half Marathon Series consists of wine-themed races across prestigious wine regions in North America, offering unforgettable experiences on and off the course, including the popular post-race wine and music festival. Runners from all states and foreign countries travel to participate in these boutique destination races designed to feature the areas top wineries and other attractions. Current races include Santa Barbara; Northern Virginia; Napa-to-Sonoma; Oregon (Willamette Valley); Kelowna, B.C.; Healdsburg, CA; and the new IPA 10K in Sebastopol, CA.
For more information on Destination Races, go to http://destinationraces.com/.
CONTACT:
Destination Races:
Matt Dockstader, Race Director
matt@destinationraces.com
(415) 717-5918