Naked Sports Innovations signs Jordi Sole´ to be International Director of Sales
February 7, 2019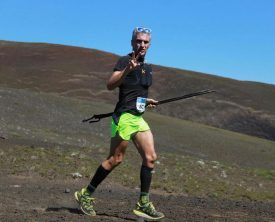 Vashon, Washington. Naked Sports Innovations Inc., a manufacturer of innovative accessories and apparel for the endurance sports market, is proud to announce the appointment of Jordi Solé Mestre as its Director of International Sales.
Jordi Solé Mestre is a well-known sporting goods executive having, since 2011, overseen global growth as CEO of Compressport. He is also an accomplished athlete, with many ultra trail races (including UTMB, Marathon des Sables, and others), ultra marathons, marathons, Ironman competitions and others on his resumé. And he's still getting faster, with a 2h48′ in the Amsterdam marathon last October at 50 years old!
An enthusiastic ambassador of Naked's revolutionary Running Band and the recently launched Naked Running Vest, Jordi will be responsible for all marketing and sales outside the United States and Canada, and will be based in Barcelona, Spain.
"For me, Naked's approach to innovative and practical design reflects perfectly my minimalist running philosophy," said Jordi. "And, as a fast-growing international brand with loyal customers around the world, it represents an exciting next step in my career."
Naked Sports Innovation President, Lindsay Petersen Dakota, echoes that sentiment: "We could not imagine a better fit than we have with Jordi. He has a proven track record in this competitive industry and shares our deep passion for endurance trail, road and triathlon sports."
ABOUT NAKED SPORTS INNOVATIONS
Naked Sports Innovations was founded in 2015 by two brothers, one a designer and mountain runner and the other an age group triathlete and entrepreneur. Based outside of Seattle Washington on the idyllic rural island of Vashon, Naked is committed to creating the most innovative endurance products available.
Naked began by creating the Naked Running Band, the first high-performance waist pack for elite endurance athletes and weekend warriors with huge bounce- and chafe-free capacity for any model of hydration flasks, phones, fuel, and other accessories. More recently, the company introduced the Naked Running Vest (for men and women) – the highest weight to capacity pack in the world – and the unique Naked Running Spra, which combines the features of a sports bra and high-capacity pack.
With the support of sponsored champion athletes in every running discipline, our global team of Ambassadors and our loyal customers, Naked can be seen on roads and trails in some 80 countries globally.
For more information:
Website: www.NakedSportsInnovations.com
Email: [email protected]
Telephone: 1-866-686-8665