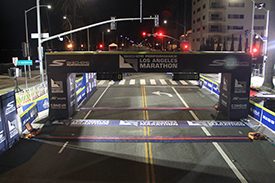 MPA Event Graphics recently added street graphics to its event-director-focused website. The company has for some time been supplying street graphics for individual clients, but with the product becoming increasingly affordable, MPA management decided that the time was right for more a vigorous approach.
MPA uses a product called Asphalt Art® exclusively for its street graphic program. A durable foil-backed substrate that is digitally printed and easily installed on asphalt, concrete, brick and other outdoor surfaces, Asphalt Art® is slip-proof even in the rain and conforms aggressively to the underlying surface.
"I actually saw a guy step on a strip of graphics early one pre-race morning, only to step back quickly and turn to me with a horrified look on his face," said Mike Plant, MPA Event Graphics founder and president.  "He thought we'd just finished painting the street. I guess you can't get a more genuine endorsement than that."
Asphalt Art® not only handles heavy foot traffic consistent with large road races but holds up well to vehicular traffic as well.
Perhaps the best and most surprising feature of Asphalt Art® is that, despite its aggressive adhesive properties, the material comes up without leaving an adhesive residue, making it a perfect solution for promotional use on sidewalks and other public areas.
By working directly with the U.S.-based manufacturer of Asphalt Art®, Jessup Manufacturing, MPA Event Graphics has been able to cut substantial costs out of its supply chain. And the fact that Asphalt Art® can be applied and removed without professional installers or laborious clean-up, adds to the value equation.
"This is one of the most versatile, most creative, signage tools on the market," Plant says. "It's certainly the least utilized. We're hoping to change that low profile in 2019."
About MPA Event Graphics
Based in Escondido, CA, MPA Event Graphics, a dba of Mike Plant & Associates. Inc., is a leading supplier of large-format event signage solutions, including printed tents, banners, flags, table covers, hard signage, inflatable structures, vehicle graphics and more. MPA provides products to a wide range of promotional agencies, events, companies and organizations across the U.S. MPA Event Graphics is Official Event Signage Supplier to USA Triathlon, USA Field Hockey, Triathlon Business International, the Viking Dash Trail Series and The Drone Racing League.