More Women in Triathlon
April 22, 2019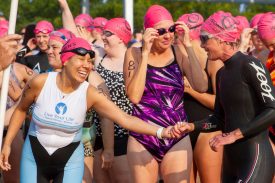 Known as "the most welcoming race," the YWCA Minneapolis Women's Triathlon is the largest all-women triathlon in the contiguous United States. More than a third of its 1,400 athletes are brand new to the sport, and participants range in age from 11 to 81. This year's race will take place on August 11, 2019 and will offer Sprint and SuperSprint distances. The race has an open water swim, but YWCA helps athletes prepare for this challenge with open water swim clinics, as well as, mini-triathlons leading up to the actual race. Additionally, the race is "clean & green" with over 90% of the waste diverted to compost and recycling.
Fund Her Tri is a charity organization formed this year whose sole purpose is growing the participation of women in triathlon. Fund Her Tri pays the registration fees for first-timers, helping offset the cost of their race and giving them a supportive and welcoming introduction to the sport.
"A Women's Specialist at USA Triathlon introduced Rachael (the Women's Tri Race Director) and I to each other a couple months ago and instantly it made sense to work together. We want the same things – to grow the sport, but specifically, to grow the participation of women & girls. Something I love about this race in particular is the open water swim. Pool swims are fantastic for beginners, but it's great to see that the YWCA offers training plans and clinics to help women overcome the fear of open water. We are both passionate about breaking down barriers to entry into the sport." Lynn Mattix, Founder of Fund Her Tri
Women Supporting Women
To support the mission of Fund Her Tri donations can be made via the website, but there is also the option to fundraise on behalf of the organization.
Fund Her Tri Ambassadors commit to raising $250 and in return receive a custom tri kit, 50% off I Race Like A Girl Membership  (https://www.iracelikeagirl.com/), as well as, discounted coaching from pro-triathlete & overall badass, Angela Naeth.
Fund Her Tri partnered with another female-triathlete-owned business, Archangel Sports, to create custom triathlon kits for the Ambassadors.
The money that will pay for first-time triathletes sponsored by Fund Her Tri is raised by fellow, female triathletes who are committed to growing the sport. More women participating means more races, more equality, more recognition, more opportunity.
###
For details on the Minneapolis Women's Tri: https://www.ywcampls.org/event/womens-triathlon/
To become a Fund Her Tri Ambassador: https://fundhertri.org/ambassador-application
To donate to Fund Her Tri: https://fundhertri.org/donate
Follow Fund Her Tri on Facebook & Instagram