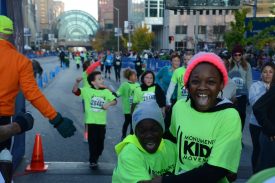 Youth Running Program Continues to Grow throughout Central Indiana
After a record breaking year in 2016, Beyond Monumental has announced that over 4,000 Indianapolis students have graduated from the Monumental Kids Movement program. Monumental Kids Movement is a seven-to-nine-week youth running program that culminates with students running in the 5K at the Indianapolis Half Marathon at Fort Ben on Saturday, October 7th, 2017 or the CNO Financial Indianapolis Monumental 5K, November 4th, 2017.  This bi-weekly program focuses on educating Indianapolis Youth about the benefits of exercise, proper diet and healthy living. Students with at least 75% participation throughout this bi-weekly program earn a free 5K race entry.
The program began in 2012 as a pilot program at a single school. Since officially launching in 2013, the program has had 4,086 students graduate the program by completing a 5K. In 2016, the program expanded beyond Center Township to also include schools in MSD Lawrence Township and MSD Wayne Township, bringing the total number of participating schools to 54 with 1,337 graduates.
Each in-school program is led by a community member or staff volunteer from the participating elementary or middle school, and receives staffing assistance from fellow faculty members and students from IUPUI who are enrolled in a first-year seminar class through the Indiana University School of Physical Education and Tourism Management.
"One of the most important things our organization does is give back," states Jed Cornforth, executive director, "Monumental Kids Movement is a key program that focuses specifically on youth wellness. Our ability to support and educate Indy's youth is one of our most meaningful achievements."
In 2017, Beyond Monumental plans for continued growth in the Monumental Kids Movement with the goals of serving 2,500 students and having more than 1,500 graduates while continuing to expand throughout Marion County.
Those wishing to further support the program can do so through the CNO Financial Indianapolis Monumental Marathon's Run-For-A-Cause program as a member of Team Monumental Kids. Additionally, donations can be made to the program on their fundraising platform.
This announcement is the fifth of 10 in a series that Beyond Monumental will release in anticipation of the tenth anniversary of the CNO Financial Indianapolis Monumental Marathon taking place on Saturday, November 4. Announcements will be made on the fourth of each month in the organizational newsletter.
###  
About Beyond Monumental
Beyond Monumental provides the Indianapolis community with a complement of activities built around their premiere event that promotes healthy living & fitness for all ages (both runners and walkers.) Beyond Monumental gives back to the Indianapolis community by supporting youth programming that reinforces healthy lifestyles for young people, with an emphasis on working with urban students and Indianapolis Public Schools, donating more than $875,000 in eight years. The CNO Financial Indianapolis Monumental Marathon is a top 20 marathon in the US and is nationally recognized by Runners' World as one of "Ten Great Marathons for First Timers". The 10th annual running is scheduled for Nov. 4, 2017.
www.beyondmonumental.org