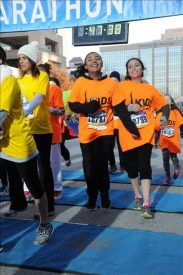 9-week Youth Running Program Expects Record Number of Graduates in 2016
Monumental Kids Movement once again predicts a record number of students will complete the program at the CNO Financial Indianapolis Monumental 5K, taking place downtown on Saturday November 5th. The youth running program, created by Beyond Monumental, aims to educate Indianapolis youth on the benefits of exercise, proper diet and healthy living.  In its first four years the program has had 2746 graduate the program by completing the race and in 2016 more than 1000 more are expected to cross the finish line.
Launched in 2013, the nine week youth running program currently serves students within 34 schools in Center Township, including 30 IPS schools. Beyond Monumental has now launched the program in 15 schools in MSD Lawrence Township and an additional two in MSD Wayne Township.  The program provides free entries to the CNO Financial Monumental 5k for its graduates who achieve at least 75% attendance to the program.
Beyond Monumental acquired the Indianapolis Half Marathon and 5K event in 2015, an event with a 20 year history of youth programming. The new event led to the expansion of Monumental Kids Movement to Lawrence township schools, and saw 640 students from 15 schools participate in the Indianapolis 5K on Saturday October 8th in Fort Benjamin Harrison.
"Adding a new event has helped us to reach even more students with our program," explained Casey Collins, Community Outreach Manager, "Rather than start from scratch, we were able to expand on the youth programming in place and work with tremendous partners in Lawrence and Wayne."
Each program is led by a community member or staff volunteer from the participating elementary school, and receives staffing assistance from fellow faculty members and students from IUPUI who are enrolled in a first-year seminar class through the Indiana University School of Physical Education and Tourism Management.  The program's main goals include educating the students on the importance of exercise, proper diet and healthy living.
Beyond Monumental is a 501(c) 3, with the first stated goal of educating Indianapolis youth about the benefits of exercise, proper diet and healthy living. The full marathon is sold out for the 5th consecutive year. Limited spots remain in the half marathon and 5K. Registration is open online through 11/1 and is available at the 2016 Monumental Health and Fitness Expo, taking place at the Indiana Convention Center on November 3rd and 4, 2016.
###  
About Beyond Monumental
Beyond Monumental provides the Indianapolis community with a complement of activities built around their premiere event that promotes healthy living & fitness for all ages (both runners and walkers.) Beyond Monumental gives back to the Indianapolis community by supporting youth programming that reinforces healthy lifestyles for young people, with an emphasis on working with urban students and Indianapolis Public Schools, donating more than $875,000 in eight years. The CNO Financial Indianapolis Monumental Marathon is a top 20 marathon in the US and is nationally recognized by Runners' World as one of "Ten Great Marathons for First Timers". The 9th annual running is scheduled for Nov. 5, 2016. www.beyondmonumental.org