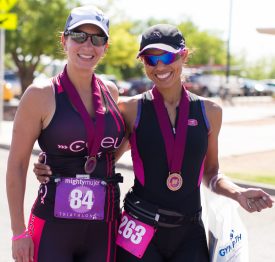 KTSM 9 News Announced as Official Media Partner of Mighty Mujer Triathlon
El Paso, TX – Mighty Mujer Triathlon is going live for the second year on El Paso's NBC Affiliate station, KTSM 9 News.  The all-female swim-bike-run will be broadcast live on April 13 with simultaneous live coverage on KTSM.com.  Mighty Mujer ("mujer" means "woman" in Spanish) has introduced thousands of women to their first race.  The challenging course and strong volunteer and community support have made it a favorite for new and experienced racers alike, many of whom make significant lifestyle changes in the process.
KTSM 9 News is the Official Media Sponsor of Mighty Mujer Triathlon, including live television broadcast of the race.  "This exciting community event highlights the best of El Paso. It's another way that KTSM is putting local first," says KTSM 9 News Director Victor Venegas.
Since its start in 2012, the event has grown in popularity and expanded into a series that includes Mighty Mujer races in Tucson and Miami. With partners throughout the community and organized training clinics, the race has created a safe, fun, and supportive environment for women to become triathletes. The race has become an icon for women's empowerment in El Paso.
"Mighty Mujer Triathlon participants are women from all walks of life, from ages 12 to 72, all professions and backgrounds.  Some are tackling Mighty Mujer as their first athletic endeavor, and others are looking for their next racing challenge," says Gabriela Gallegos, President and Race Director for Race El Paso.   "They all cross the finish line knowing they conquered the challenging course.  For many, it becomes a part of their lives, they continue a healthy lifestyle."
Mighty Mujer Triathlon will be broadcast live on television on April 13 from 7:30 to 8:30am on KTSM 9 News with simultaneous coverage on KTSM.com. With 6 cameras covering the race from start to finish, family and friends, near and far, can again tune in and cheer for the women of Mighty Mujer Triathlon.
For course maps and more info about Mighty Mujer Triathlon, visit http://mightymujertriathlon.com
Interview Contact:      Gabriela Gallegos | 915.433.3439 | gg@raceelpaso.com
About Mighty Mujer Triathlon.  Mighty Mujer Triathlon is an all-female race in El Paso, Tucson, and Miami.  Along with partners and sponsors, Mighty Mujer Triathlon offers skills clinics and information sessions in each event location to prepare participants for their first or next triathlon.
Mighty Mujer Triathlon EL PASO
April 13, 2019
Memorial Park Pool, El Paso, TX
Super Sprint:  300-yard swim – 9.3mi bike – 2mi run
Sprint:  300-yard swim – 18mi bike – 3mi run
Registration is open: http://mightymujertriathlon.com
Mighty Mujer Triathlon MIAMI
May 11, 2019
CB Smith Park, Pembroke Pines, FL
400-yard swim – 10mi bike – 5k run
Registration is open: http://mightymujertriathlon.com
Mighty Mujer Triathlon TUCSON
October 5, 2019
Oro Valley Aquatic Center, Tucson, AZ
400-meter swim – 14.6mi bike – 5k run
Registration is open: http://mightymujertriathlon.com
For more info about Mighty Mujer Triathlon, visit http://mightymujertriathlon.com Facebook @mightymujer
Instagram @mightymujertri
####