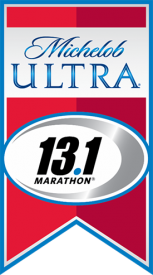 3,000 Runners to Enjoy Finishing Stretch, Post-Race Party on Fort Lauderdale Beach
FORT LAUDERDALE, Fla (Oct. 14, 2014) – The charm of Downtown Fort Lauderdale will take center stage on Nov. 9, 2014 when the Michelob ULTRA Fort  Lauderdale 13.1 Marathon® returns to Fort Lauderdale and debuts an all new course. The event is also the kick off to the Florida Storm Series of distance running events.
The race, produced by Life Time – The Healthy Way of Life Company (NYSE: LTM), will begin at 6:35 a.m. at S.W. 1st Ave. and SW 2nd St. with more than 3,000 runners winding through a course that has been adjusted to include more of Fort Lauderdale's historic neighborhoods before it ventures down Las Olas Blvd. to Fort Lauderdale beach for the final five miles.
Also a part of race day is The Life Time 5K which targets families and walkers looking to join the fun at a shorter distance in one of South Florida's most enjoyable running events. The finish line and ultimate post-race party will await on the sands on the Southern end of the beach with food, live entertainment and a complimentary beer at the Michelob ULTRA Beer garden (Ages 21+).
This is the seventh year that the prep race for the 2015 Miami Marathon and Half Marathon on Jan. 25, 2015 has been run in Fort Lauderdale. Additionally, the Michelob ULTRA For Lauderdale 13.1 Marathon® is the lead event of the five-race Florida Storm Series, which challenges runners to participate in three to five racing events in Florida during the 2014/2015 season that also includes EAU Palm Beach Marathon & Run Fest, Miami Marathon & Half Marathon, Michelob ULTRA Miami Beach 13.1 Marathon®,and ends with the First Watch Sarasota Half Marathon & Relay.
The Michelob ULTRA Fort Lauderdale 13.1 Marathon® is also part of a line-up of races around the country at the increasingly popular half marathon distance. The 13.1 series includes races in Miami Beach (March 1, 2015), New York (March 21, 2015), Chicago (June 2015), Boston (September 2015), Atlanta (October 2015) and Dallas (October 2015).
Registration
Registration for the Michelob ULTRA Fort Lauderdale 13.1 Marathon® is still available at $100 through November 1 and then $110 the final week.
Registration for the Life Time 5K is $45 through race day.
TheFinish-Together Relay allows teams of two to split the 13.1 mile distance andboth be awarded a spinning finisher medal. 
There is complimentary shuttle pick-up for participants at the International Swimming Hall of Fame.
Call (305) 278-8668 or visit www.131fortlauderdale.com.
Florida Storm Series
The other Florida Storm Series events include
Eau Palm Beach Marathon and Run Fest on December 7, 2014
Miami Marathon and Half Marathon on January 25, 2015

Michelob ULTRA Miami Beach 13.1 Marathon® on March 1, 2015

First Watch Sarasota Half Marathon & Relay on March 15, 2015.
Anyone who is registered for at least three of the five Florida Storm Series events by October 28, 2014 will receive a limited-edition training shirt in addition to their medal.
"The Storm Series represents and awards the challenges runners are willing to overcome to cross the finish line at these events," Race Director Javier Sanchez said. "Some participants will run as many as 91 miles to earn a Category 5 award and that's not including their training miles."
The Course
Runners will experience Ft. Lauderdale in a whole new way with a brand new course for 2014. They will begin at the downtown Riverfront and make their way through the Henry E Kinney tunnel. Runners will then enter the beautiful Rio Vista neighborhood of Fort Lauderdale, a new addition to the course this year where they will discover the hidden waterfront homes and breathtaking views.  The course then heads West over the Avenue of the Arts Bridge and onto the Riverwalk passing through historic Fort Lauderdale, including the Broward Center for Performing Arts, Hoch Heritage Center and Huizinga Park. Runners then proceed East along the famous tourist destination of Las Olas Blvd passing high end shops and restaurants. Once they hit Fort Lauderdale beach, runners will first proceed North before they reach a turnaround just past Mile 10 at Vue Beach Club and then head South for the final three miles to the finish line.
MEDIA NOTE: Media interested in covering the Michelob Ultra Fort Lauderdale 13.1 Marathon should contact Gary Ferman at 954-558-5203 or garyferman@bellsouth.net. 
Additional Information
For more information about the Michelob ULTRA Fort Lauderdale 13.1 Marathon®, please visit 131marathon.com/fortlauderdale. More information about Life Time Athletic Events is available at EventsByLifeTime.com, on Twitter @lifetimefitness and the Life Time Athletic Events Facebook page.
About Life Time Fitness, Inc.
As The Healthy Way of Life Company, Life Time Fitness (NYSE:LTM) helps organizations, communities and individuals achieve their total health objectives, athletic aspirations and fitness goals by engaging in their areas of interest — or discovering new passions — both inside and outside of Life Time's distinctive and large sports, professional fitness, family recreation and spa destinations, most of which operate 24 hours a day, seven days a week. The Company's Healthy Way of Life approach enables customers to achieve this by providing the best programs, people and places of uncompromising quality and value. As of October 14, 2014, the Company operated 112 centers under the LIFE TIME FITNESS® and LIFE TIME ATHLETIC® brands in the United States and Canada. Additional information about Life Time centers, programs and services is available at lifetimefitness.com.